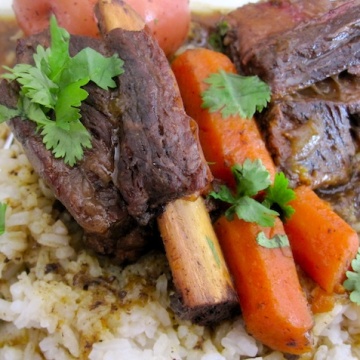 Slow Cooker Short Ribs with Colombian Spices
Ingredients
2

tablespoons

vegetable oil

4

pounds

bone-in beef short ribs

1

onion

chopped

2

scallion

chopped

4

garlic cloves

minced

1

red bell pepper

1

green pepper

¼

cup

water

Salt and ground pepper

to taste

2

teaspoons

ground cumin

1

teaspoon

achiote

3

carrots peeled and cut into chunks

6

small red potaoes

skin on

2

cups

diced tomatoes

2

tablespoons

grated panela or brown sugar

1

bottle beer

¼

cup

fresh cilantro

plus more for garnish
Instructions
Season the ribs on all sides with salt and pepper. Place vegetable oil and the ribs in a pan, turning once, until browned, about 3 minutes per side. Transfer the ribs to a slow cooker.

Blend the onions, scallions, peppers, tomatoes, garlic, cumin, achiote, panela or brown sugar, and cilantro with the water until you get a smooth puree.

Pour in the tomatoes and onion sauce and beer over the ribs. Add the carrots and potatoes. Cover and cook until the meat is separating from the bones and the vegetables are tender, 5 to 6 hours on high or 7 to 8 hours on low.

Spoon the fat off the sauce. Transfer the ribs and sauce to a serving plate and serve immediately over white rice.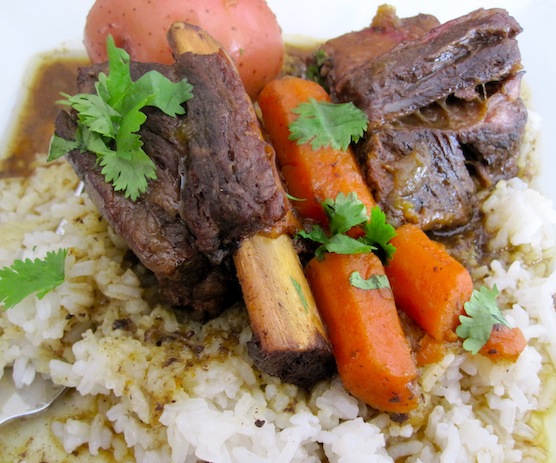 Short ribs seem to go better with colder weather and although it's still summer, when I saw these ribs at the market, I knew there was no waiting for cooler days.
The aromas of cumin, achiote and herbs are fantastic and simply irresistible. The flavors go so perfectly with each other and every delightful forkful will bring pure joy. The short ribs were perfectly tender and the plain white rice nicely soaked up the delicious sauce.
So, if you're looking for a different way to cook something traditional, like these short ribs, then this is the perfect recipe for you.
Buen provecho!