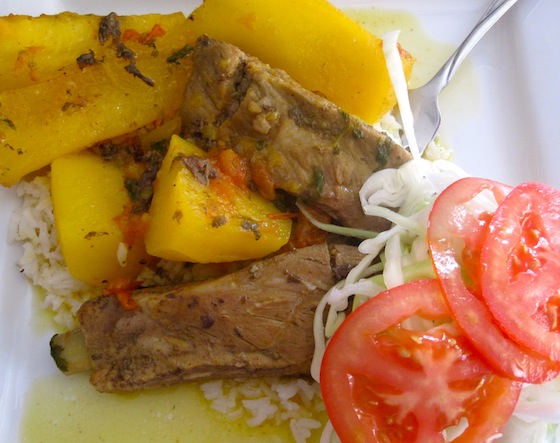 My grandmother was an exceptional cook. The dishes prepared in her kitchen were absolutely delicious and are what connects me to my roots. This is very important to me, especially now that I am living outside of Colombia and raising my children in the USA.
I grew up very close to my mother's side of the family. We would spend every Sunday together and Mamita always cooked amazing traditional Colombian meals for the whole family, like this Sudado de Costilla de Cerdo. She served it with white rice, avocado and tomato-cabbage salad on the side. This dish is what I call comfort food!
Buen provecho!
Ingredients
About 4 servings
2 1/2 pound pork ribs, cut into individual ribs
5 cups water and more as necessary
1/2 teaspoon sazon Goya with azafran or color
1/4 cup aliños sauce
1 large tomato finely chopped
1/2 teaspoon ground cumin
2 large white potatoes cut into four pieces each
4 pieces yuca
3 teaspoon chopped cilantro
Salt and pepper
Directions
In a large pot, place the water, ribs, aliños, tomato, salt and Sazon Goya. Simmer over low heat covered, about 40 minutes.
Add the potatoes and yuca. Then cover and cook for an additional 35 minutes, until the potatoes and yuca are tender. Check frequently and add additional water as necessary.
Uncover, check to see if the potatoes and yuca are tender, add chopped fresh cilantro, and serve over white rice.
This was printed from MyColombianRecipes.com