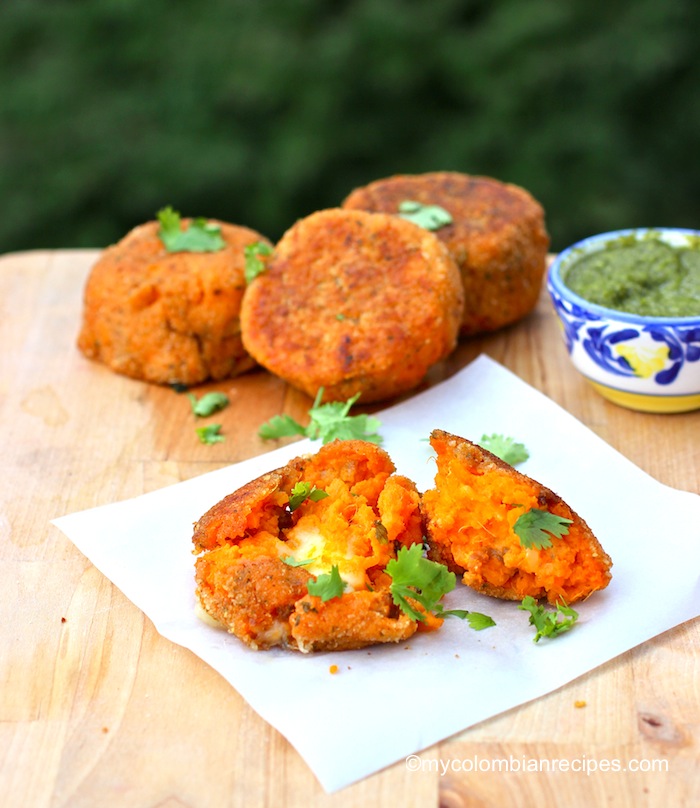 This is a compensated campaign in collaboration with California Sweetpotatoes and Latina Bloggers Connect. However, the recipe, pictures and all opinions are 100% my own.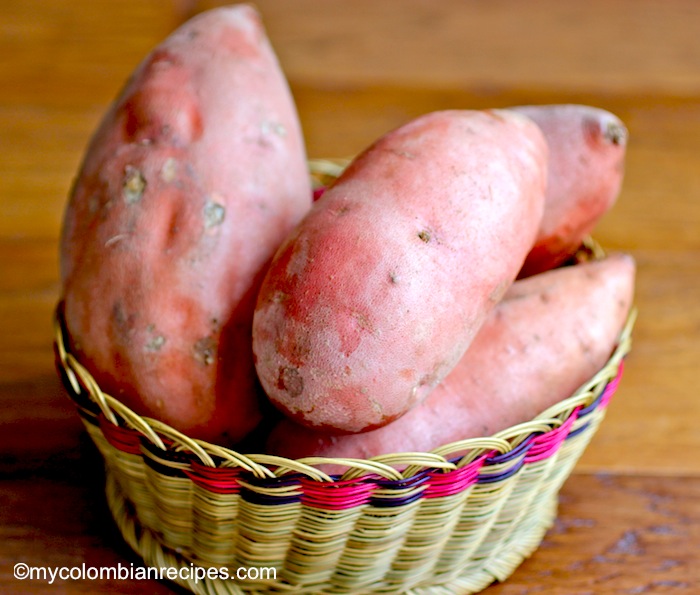 Did you know that sweetpotato can be spelled as one word? A sweetpotato is not a sweet potato, but is actually an entirely different vegetable than a potato and has a totally different set of nutrients, including more than a day's worth of vitamin A, according to California Sweetpotatoes.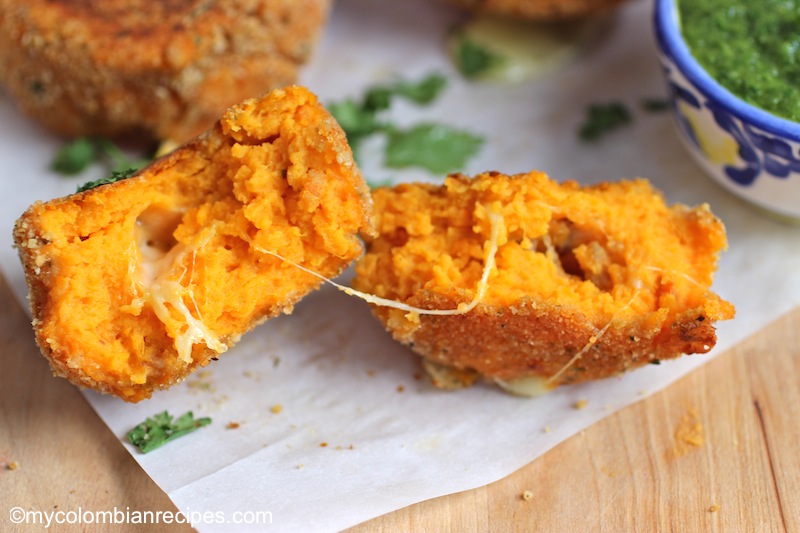 California Sweetpotatoes are bold flavored and versatile veggies that are great for both sweet and savory dishes. You can prepare them baked, mashed, steamed, pureed, roasted, and even grilled. California Sweetpotatoes pair beautifully with just about any flavor combination.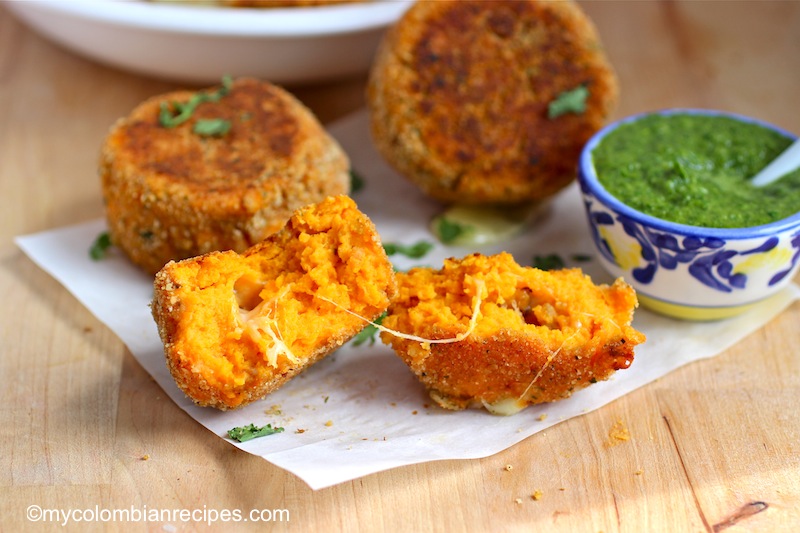 "Potato and Chorizo Cakes" were something my mom kept on hand at all times. They make great last minute appetizers and if you entertain regularly, you need to have a few tricks up your sleeve and keep the food simple! My mom loves entertaining and to cook for crowds of people. Our home was always a meeting place for family and friends when I was growing up in Colombia. We had people over a few times per week, both planned and unplanned. Sometimes these parties happened on extremely short notice, like when my father would bring friends home from work! So my family has an extensive collection of throw-together party foods for whenever the moment strikes!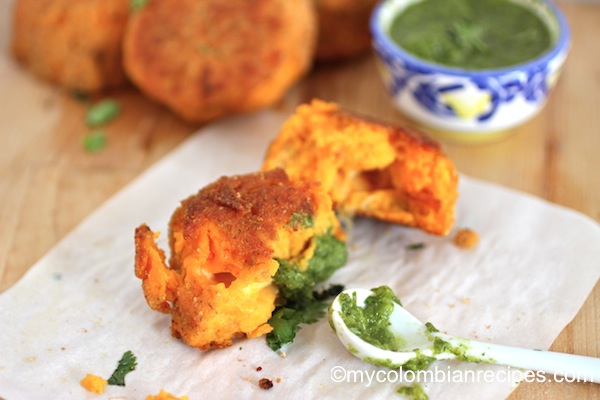 I wanted to recreate my mom's Potato and Chorizo Cakes, so I used California Sweetpotaoes instead of regular potatoes. I also baked them instead of frying them, which really cuts back on calories. The cilantro sauce is super delicious, very easy to make and it makes the best dip for these sweetpotato cakes! I love serving bite-sized food like this, simple to make for a crowd and totally gorgeous. This would be a great addition to any menu! You can also make the cakes ahead of time and just pop them in the oven just before serving. Simple, colorful, and totally delicious.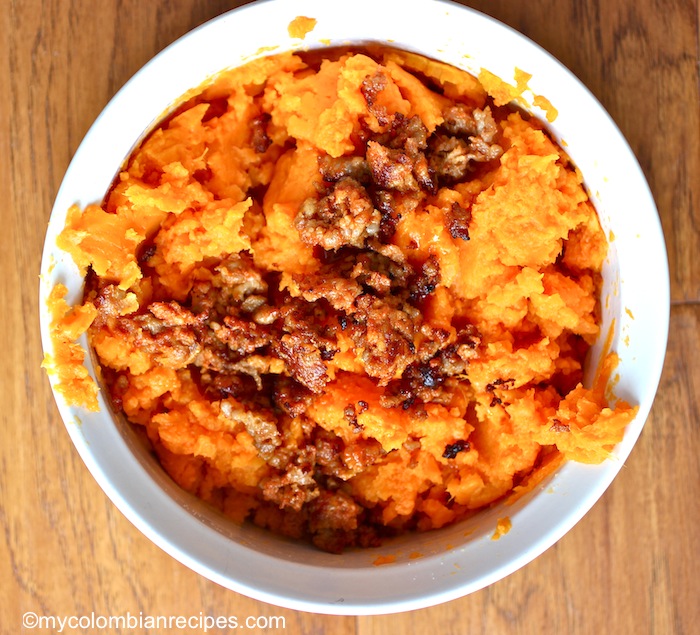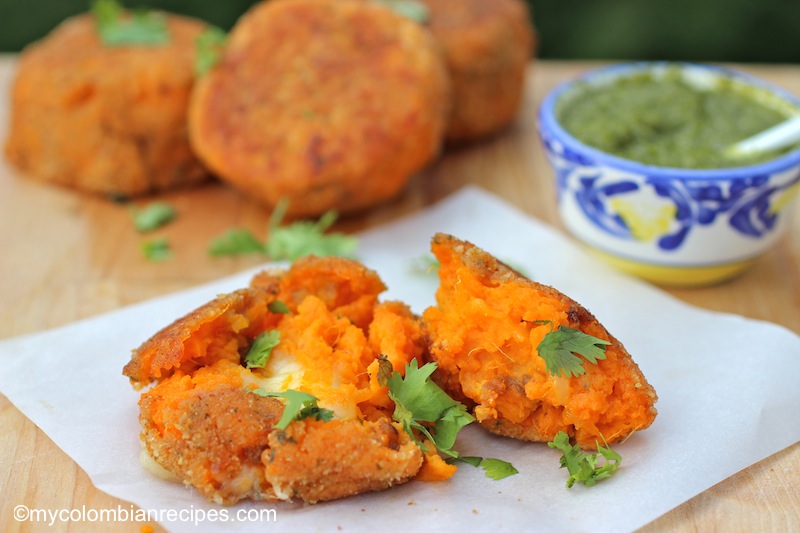 To learn more about California Sweetpotatoes, check out their site here.

Buen provecho!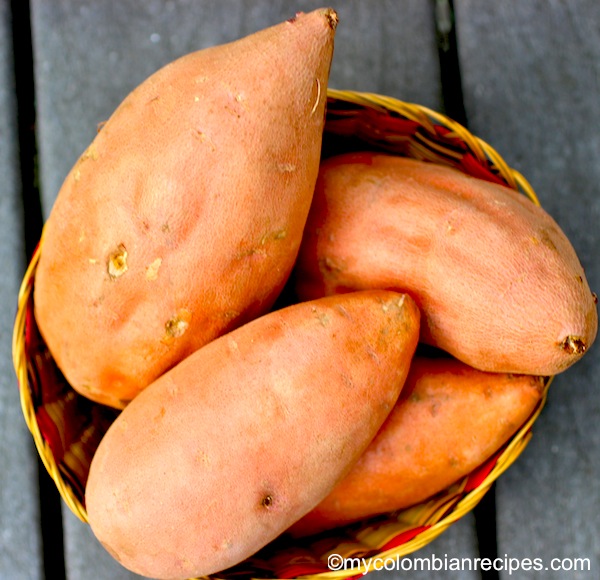 Ingredients
(24 small cakes)
4 sweet potatoes, peeled and cut into large chunks
1 tablespoon of oil
½ cup finely chopped white onion
2 fresh chorizos crumbled
1 beaten egg
8 oz Monterey Jack or mozzarella cheese, cubed
Salt to taste
1 cup of seasoned bread crumbs

Cilantro Sauce

1 cup fresh cilantro leaves
1 garlic clove
2 tablespoons chopped onion
Juice of 2 limes
1 tablespoon white vinegar
1 teaspoon olive oil
1/2 jalapeño pepper,seeded and chopped
Salt and pepper to taste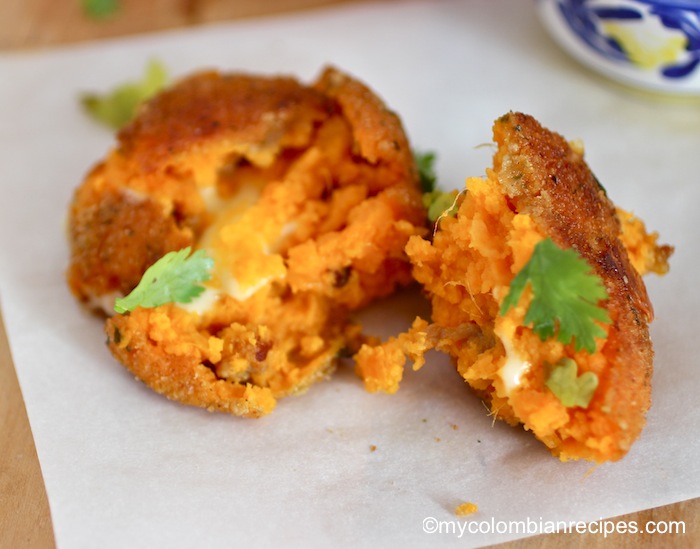 Directions
Cook the sweet potatoes about 25 to 30 minutes or until soft.
Heat the oil over medium heat in a pan, add the onions and cook until the onions are soft, about 5 minutes. Add the crumbled chorizo and cook for about 5 minutes more. Set aside.
Mash the sweet potatoes and add the chorizo mixture, egg and salt to your taste.
Cover the sweet potatoes and let sit at room temperature for about 30 minutes. Make small balls with the sweet potato mixture. Make a hole in the middle of each ball and insert a piece of cheese.
Shape the dough into thick cakes and cover them with bread crumbs. Line a baking sheet with parchment paper and grease with cooking spray. Preheat the oven to 400 F.
Place the cakes in a single layer on prepared baking sheet. Spray thoroughly with cooking spray. Bake 5-8 minutes, then turn and cook another 5-8 minutes on other side until golden and crispy.
To make the cilantro sauce: place all the ingredients in the blender or the food processor and mix until well combined.
This was printed from MyColombianRecipes.com