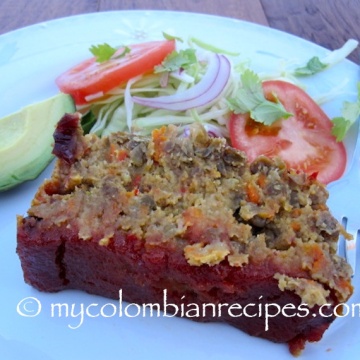 Vegan Lentil Loaf
Ingredients
1

cup

uncooked brown lentils

3

cups

of vegetable broth

2

tablespoon

olive oil

1

cup

finely chopped onion

1

cup

grated carrot

1

cup

red bell pepper

finely chopped

3

garlic cloves

minced

½

cup

apple sauce

⅓

cup

dried cranberries

½

cup

pistachios

finely chopped

1

cup

breadcrumbs

¼

cup

fresh cilantro leaves

finely chopped

¼

teaspoon

of chili powder

½

teaspoon

ground cumin

½

teaspoon

ground thyme

Salt and pepper

to taste

2

tablespoons

ketchup

2

tablespoons

apple sauce

2

tablespoons

brown sugar
Instructions
Wash the lentils and place into a pot along with the vegetable broth. Bring to a boil, then reduce heat to medium-low and simmer, for about 40 minutes. Add more broth or water if necessary

Meanwhile, warm the oil in a pan. Add the onions and cook for about 4 minutes or until soft. Add the carrots, bell pepper and garlic. Cook for about 3 minutes more. Set aside.

When the lentils are ready mash them slightly with a potato masher or a fork.

Preheat the oven to 350u00ba F.

In a large bowl, mix the onion mixture, mashed lentils, apple sauce, cranberries, pistachios, bread crumbs, cilantro, chili powder, cumin, thyme, salt and pepper.

Line a loaf pan with parchment paper. Transfer the mixture to the loaf pan and press mixture into the pan with a spoon.

Mix the glaze ingredients in a small bowl and spread evenly over the top.

Bake for about 45 minutes. Transfer the pan to a wire rack and let the loaf cool a bit. Run a table knife around the edge of the pan and turn the loaf out onto a serving plate.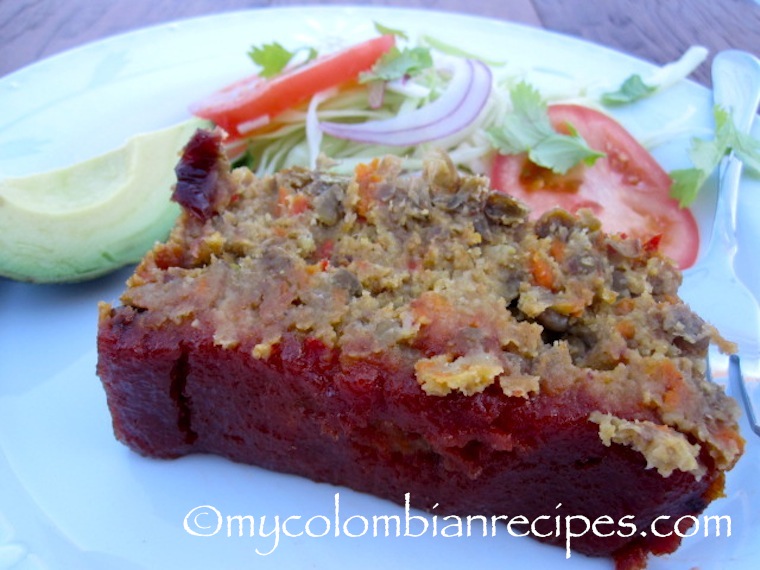 Today I want to tell you a little bit about a new group I joined called The Creative Cooking Crew. This is a group of 24 food bloggers that comes together once a month to try something new in the kitchen! The group was started this year, and will be hosted by Lazaro of Lazaro Cooks and Joan of Foodalogue. Look forward to new challenges at the end of every month, featuring many great interpretations of varying recipes.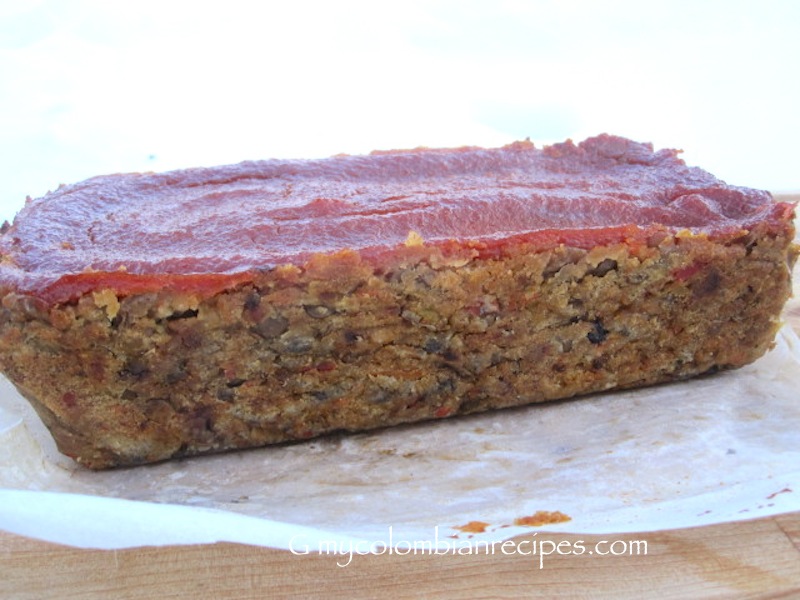 The First challenge for the group was to choose one of our favorite meat dishes and give it a healthy, vegan interpretation. I decided to make a vegan version of "meat loaf" using lentils topped with an apple-tomato glaze. This is an easy dish to prepare and has wonderful texture and flavors. Don't be fooled though, this Vegan Lentil Loaf is something for the entire family! Even a meat lover like me loves this Lentil Loaf. I ate the leftovers the next day for lunch and it was even better.