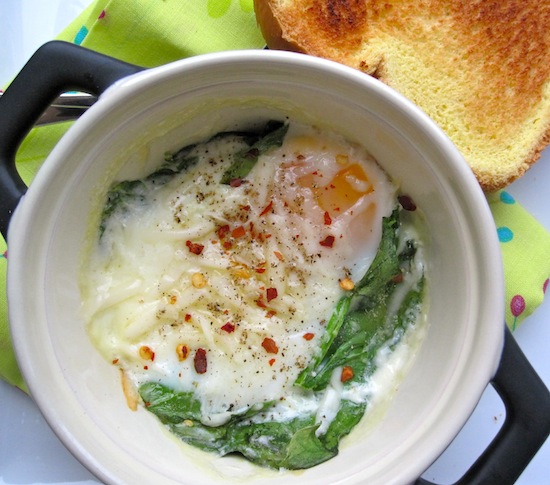 I love starting the day off with a breakfast like this along with a steaming hot cup of coffee.
These delicious baked eggs make for an impressive presentation. Serve with buttered toast for a simple yet elegant breakfast or brunch.
Buen provecho!
Ingredients

(4 Servings)
3 tablespoons olive oil

¼ chopped onion

1 garlic clove, minced

2 cups spinach

8 tablespoons heavy cream

¼ cup chopped fresh parsley

4 large eggs

8 tablespoons asiago cheese

Salt and pepper

Butter
Crushed red pepper to your taste
Directions:
1. Preheat the oven to 375° F.
2. Heat the olive oil in a medium skillet over medium heat. Add the onions and garlic, cook for 2 minutes, and then add the spinach and cook for an additional 5 minutes or until the onions are translucent.
3. Season with salt and pepper. Add parsley and remove from the heat.
4. Rub the inside of 4 small ramekins with butter and then add spinach mixture into each ramekin.
5. Add 1 egg to each, season with salt and pepper. Add 2 tablespoons heavy cream and 2 tablespoons asiago cheese. Place the ramekins in a baking dish and bake about 8 to 10 minutes. Add crushed red pepper and serve immediately.

If you liked this post, you can say thanks by sharing it:
Related Posts