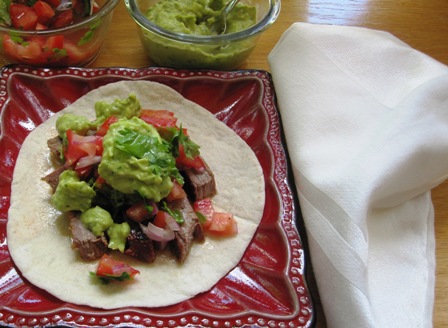 I love Mexican food and the flavors that they use in their cuisine are amazing to me. Tacos are such a versatile food, as you can use any kind of filling. If made right, they are absolutely delicious. For these beef tacos I used flank steak, but feel free to use your favorite kind of steak.
Ingredients
(4 Servings)
For the beef
1 pound flank steak, trimmed
½ teaspoon ground cumin
2 garlic cloves, minced
1 scallion, finely chopped
1 tablespoon olive oil
Salt and Pepper
½ teaspoon paprika
8 tortillas

Avocado Sauce

2 ripe avocados, peeled and pitted
¼ cup white onion, chopped
1 tablespoon olive oil
¼ cup fresh cilantro chopped
1 garlic clove
1/2 teaspoon ground cumin
Juice 1 lime
¼ cup sour cream

Salsa

1 medium tomato, diced
2 tablespoon finely chopped red onion
½ teaspoon Tabasco sauce
Juice 1 lime
Salt and Pepper
1/3 cup chopped fresh cilantro
Directions
To Prepare Beef:
Place the flank steak in a zip lock bag then add the garlic, cumin, scallion, olive oil, paprika, salt and pepper. Marinade for at least 1 hour or overnight.
Remove steak from marinade bag and remove as much of the marinade as possible. Discard remaining marinade. Place the steak on the preheated grill and cook 5 minutes on each side for medium doneness or cook until desired degree of doneness.
Remove from grill and allow the steak to rest for 10 minutes. Slice the steak against the grain and set aside.
To Prepare Avocado Sauce:
Place all the ingredients in a food processor and process until smooth. Transfer to a serving bowl.
To Prepare the Salsa:
Combine all the ingredients in a bowl.
To Serve: Let everyone assemble their own tacos
Like this recipe? Please say thanks by sharing it...