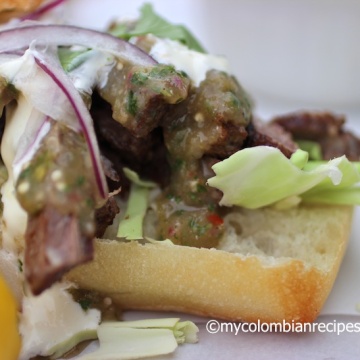 Beef with Lemon Aioli and Tomatillo Sauce Sandwich
Ingredients
1

pound

beef skirt

trimmed

2

garlic cloves

minced

2

scallions

finely chopped

1

teaspoon

ground cumin

½

cup

of beer

1

tablespoon

vegetable oil

Salt and black pepper

1

garlic clove

Juice and zest of 1 lemon

⅓

cup

mayonnaise

1

tablespoons

olive oil

Salt and ground black pepper

5 to

matillos

husked

½

cup

red onion

chopped

⅓

cup

chopped fresh cilantro

1

garlic clove

½

jalapeuño pepper

diced

Salt and pepper

Juice of 1 lime

1

teaspoon

olive oil

¼

teaspoon

ground cumin

Ciabatta bread

Red Onion

sliced

Shredded cabbage

Fresh cilantro
Instructions
To make the Tomatillo Sauce: In a medium pot over medium heat place the tomatillos in water. Cook for about 5 minutes or until tender.

Place the cooked tomatillos and remaining ingredients in the food processor and process until smooth.

To make the Lemon Aioli: Blend all the ingredients and set aside.

To cook the beef: Mix the minced garlic, scallions, cumin, beer, oil salt and pepper together to make a marinade for the meat.

Rub the marinade on the steaks and let marinate for a bout 3 hours or overnight in the refrigerator.

Grill or broil the steaks over high heat to desired wellness, about 3 minutes on each side. Slice thinly across the grain of the meat. Now build your sandwich to your taste and enjoy!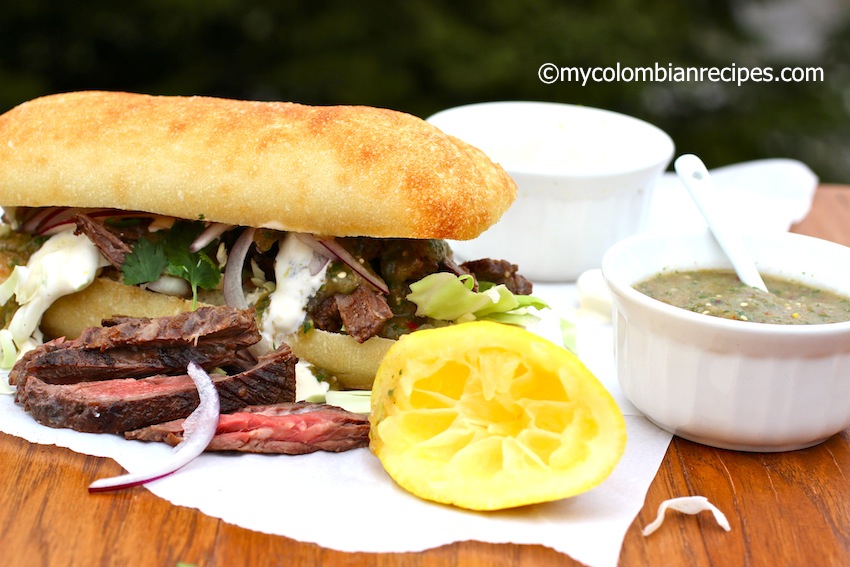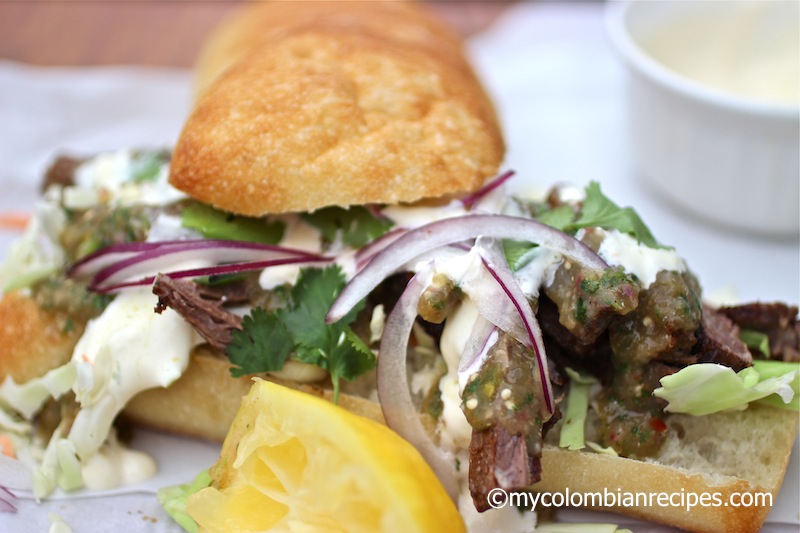 This month the Creative Cooking Crew Challenge was to make a sandwich using 3 ingredients starting with the letters "BLT".
A traditional BLT sandwich is made with Bacon, Lettuce, and Tomato, but of course we could not make the traditional BLT, but instead we needed to be creative using other ingredients that started with the letters BLT. I decided to make a Beef with Lemon Aioli and Tomatillo Sauce Sandwich. I love the combination of flavors in this sandwich!
Buen provecho!