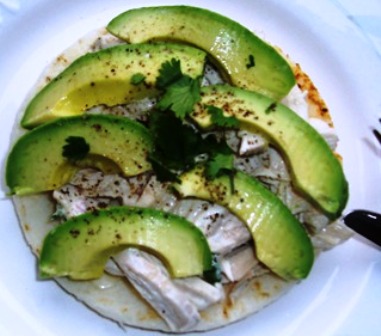 Arepas are a popular dish in my hometown Antioquia. They are very versatile, you can top them with almost anything and you can also serve them at any time of the day. Arepas are definitely my favorite Colombian dish.
INGREDIENTS
(4 SERVINGS)
4-5 inch round arepas
2 small avocados
4 chicken breast, bone-in, skin on
Olive oil
Salt
Fresh ground pepper
½ cup mayonnaise
4 tablespoons lime juice
¼ teaspoon sugar
¼ teaspoon cumin powder
¼ cup chopped onions
4 tablespoon chopped fresh cilantro
DIRECTIONS
1. Make round arepas, 4-5 inches in diameter, cover them with foil and set aside.
2. Preheat the oven to 350° F.
3. Place the chicken breast, skin side up on a baking sheet and brush them with olive oil and sprinkle with salt and pepper. Roast for 40 minutes or until the chicken is cooked trough. Set aside until cool.
4. When the chicken is cool, remove the meat and discard the bones and the skin, shred the chicken meat.
5. In a medium bowl mix together the mayonnaise, cilantro, lime juice, sugar, chopped onions, cumin powder, salt and pepper. Add the chicken and toss well.
6. Peel and slice the avocados, drizzle with lime juice and sprinkle with salt and pepper. To assemble, top each arepa with chicken mixture and top with the avocado slices and serve.

If you liked this post, you can say thanks by sharing it:
Related Posts