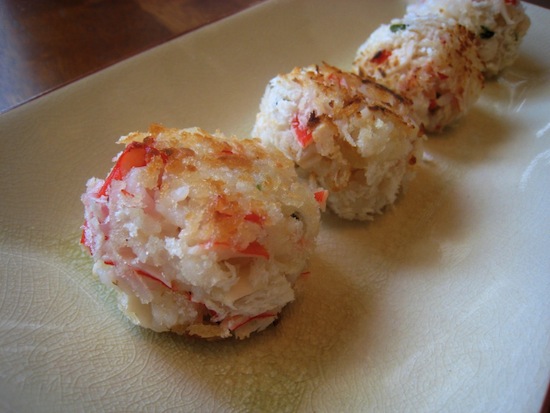 Guest posting today and sharing her delicious recipe is Sook from "My Fabulous Recipes". Sook has a beautiful blog filled with beautiful pictures and delicious recipes. Thank you, Sook, for being here!
~Erica
Hi everyone! My name is Sook from "My Fabulous Recipes". I feel so honored to be able to do a guest post on Erica's blog. I love seeing all of her authentic Colombian recipes. Today, I would like to share an interesting Korean/American fusion recipe with you.
I love Korean food… and that's probably because I grew up in Korea eating all kinds of Korean food. Ju-mok-bap (Rice balls) is something that my mom used to make for snack. It's easy to make and you can be creative with it, too. l made two kinds of Ju-mok-bap and this is one of them. I went kind of crazy with this one – I knew crab meat was very good in ju-mok-bap and I added a little bit of Parmesan cheese. My husband think it is weird to eat rice with cheese (although he's never tried it) but rice is actually pretty good with cheese. I coated the rice balls in panko and panfried them and they were fantastic! I would definitely make them again.
Ingredients
1 tablespoon olive oil
1 cup crab meat, shredded or chopped
1/4 cup Parmesan cheese
1 green onion, chopped
1/2 red chili pepper, seeded and chopped
2 cups cooked sticky rice (It has to be sticky, short grain rice)
salt to taste
1 cup panko
oil to fry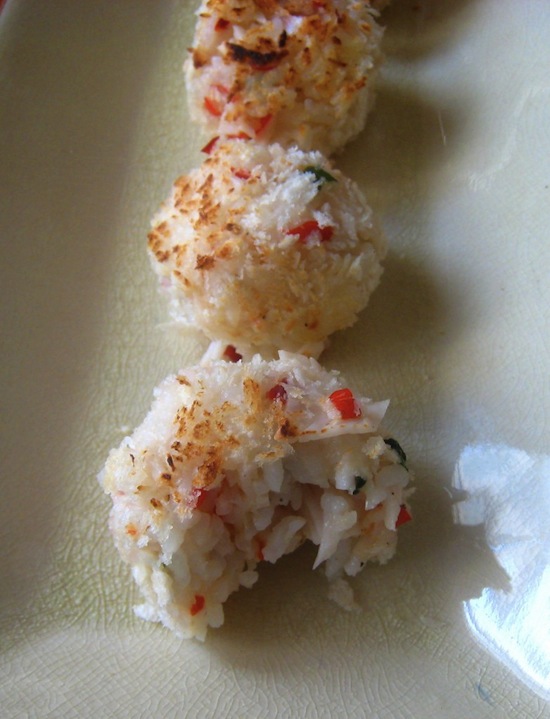 Directions:
In a medium to large skillet, heat 1 tablespoon oil over high heat. Add the crab meat, chili pepper, and green onions and stir well for about 3-5 minutes, until the crab meat is tender. Sprinkle with the Parmesan cheese and remove from the heat.
In a large bowl, combine the cooked rice, crab mixture, and salt and stir well. Grease your hands with a cooking spray or oil and make ping-pong sized balls (makes about 12 balls). Coat the balls in panko bread crumbs.
Heat oil in a large frying pan or a skillet and fry the rice balls. (You can either deepfry them or panfry them in 2-4 tablespoons oil. I panfried the balls just until the panko started to brown.)
Enjoy!
Sook
This was printed from MyColombianRecipes.com