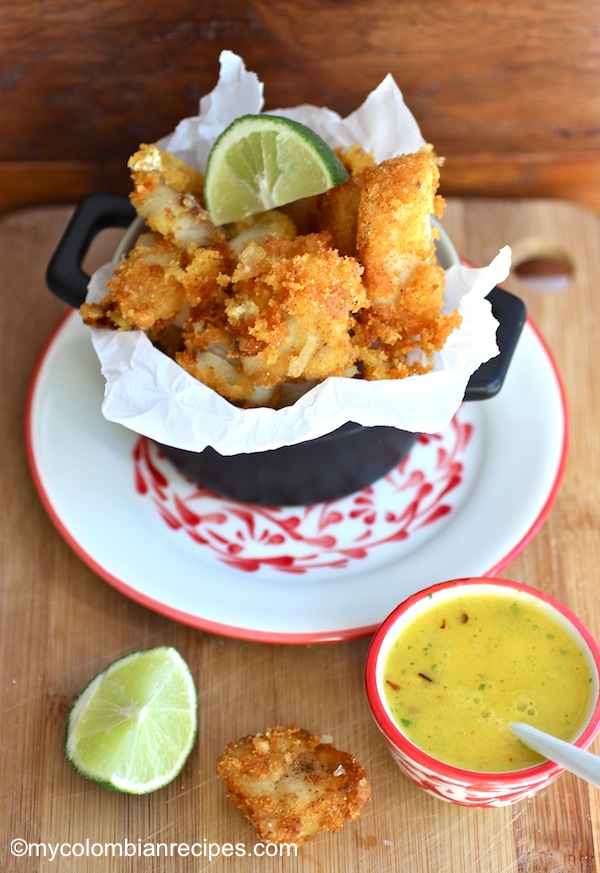 Chicharrón is a dish usually made from fried pork rind, but in Latin América and Spain, there are other variations of chicharrón made from chicken, beef and fish. The most popular Chicharrón in Colombia is made with thick, fried strips of pork belly. It has a crunchy texture and is one of the indispensable components of bandeja paisa, the signature dish of Colombia.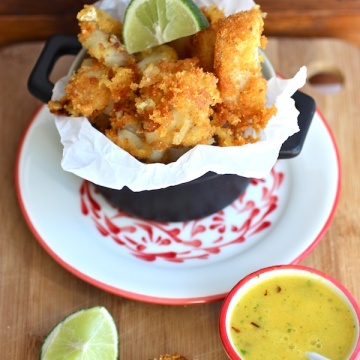 Chicharrón de Pescado con Ají de Mango (Fish Fritters with Mango Sauce)
Ingredients
Fish
1 ½

pounds

white fish cut into pieces

Salt and pepper

to taste

Juice of 2 limes

½

cup

cassava flour

Vegetable or canola oil for frying
Mango Ají
1

Peruvian yellow hot pepper or ½ habanero pepper

seed removed

2

cups

mango juice

1

teaspoon

olive oil

2

tablespoons

of lime juice

Salt and pepper to taste

2

tablespoons

finely chopped cilantro
Instructions
Season the fish pieces with salt, pepper and lime juice.

Add the flour to cover the fish. Put in a plastic bag and shake.

Fry in the hot oil for about 2 minutes on each side or until golden. Place on a plate lined with paper towel and serve immediately with the mango spicy sauce or your favorite sauce.

To make the sauce: Blend the pepper with the mango juice, olive oil and lime juice until everything is mixed. Season with salt and pepper. Use it immediately or have it on hand up to an hour in the fridge.

These Chicharrones de Pescado are a traditional dish from the department of Amazonas located in the south of Colombia. This dish is traditionally made with Pirarucú, a white fish from the Amazon and considered the largest freshwater fish of South America and one of the largest freshwater fish in the world.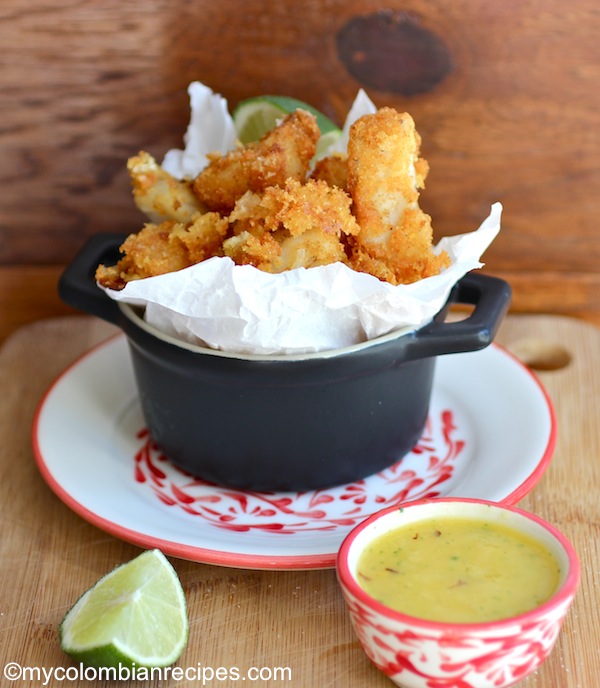 Chicharrón de Pescado is also a popular dish in Peru, where it is usually served with ají amarillo. This is a very simple dish, but delicious. The way to prepare it is by washing and drying the fish and cutting it into small pieces, which are seasoned with a mix of lime juice and salt. The batter is made from cassava flour, salt and pepper, then the pieces of fish are fried until crisp and golden. They are quite addictive, that sort of snack you just can't stop eating.
Buen provecho!