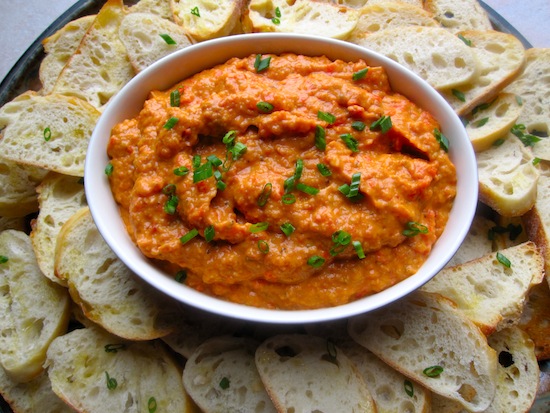 I love crostini!!!
They are simple, delicious, and can be made with lots of different toppings or spreads. If you are a fan of roasted peppers, you will love these. The spread is essentially a mixture of beans, roasted red pepper, garlic and herbs.
I used a combination of garbanzo and canellini beans, but you can use whatever types you prefer.
Buen provecho!
Ingredients
For the crostini

50 thin slices baguette or other crusty bread
Olive oil

For the spread

1/4 cup olive oil
1 can (15 oz) canellini beans, rinsed
1 can (15 oz) garbanzo beans, rinsed
1 roasted red pepper
2 cloves garlic
2 tablespoons fresh parsley
2 tablespoons fresh thyme leaves
2 tablespoons fresh chives
Salt and fresh ground pepper, to taste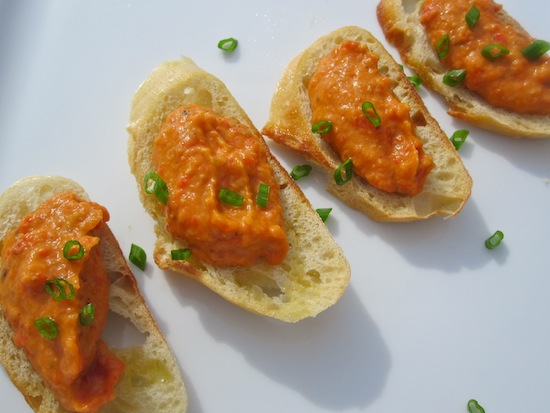 Directions
Preheat the oven to 350˚ F.  To make the crostini, place baguette slices in a single layer on a baking sheet.  Lightly brush each slice of bread with olive oil.  Bake 15-20 minutes, until golden and crisp. Set aside.
To make the spread: Place all the ingredients in the food processor except the olive oil. With the food processor running, add the olive oil, until the mixture is smooth and spreadable.  Adjust seasoning with salt and pepper to taste.
Spread each piece of bread with a thin layer of the bean mixture, transfer to a platter and serve.
This was printed from MyColombianRecipes.com