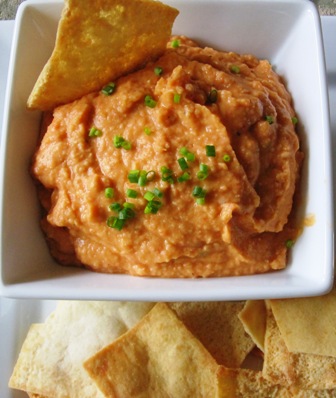 I love beans! In Colombia we may eat beans two or three times a day. I never get tired of eating beans so I have a long list of bean recipes. This one is a delicious white bean –roasted pepper dip. It is great as a light and healthy snack with pita chips, as an appetizer for your next party or for that unannounced visit, as it is quick and simple to prepare!
Ingredients
1 can (15 oz) cannellini beans
1 roasted red bell pepper
3 tablespoons toasted pine nuts
¼ cup olive oil
Salt and black pepper
2 tablespoons chopped onion
Chives for garnish
Instructions
1. Place all the ingredients in the food processor and mix until well combined and smooth.
2. Transfer the dip to a serving dish and top with the fresh chives. Serve with pita chips on the side.
This was printed from MyColombianRecipes.com