These cassava balls can be served as an appetizer, snack or dessert. They are crispy outside and soft inside.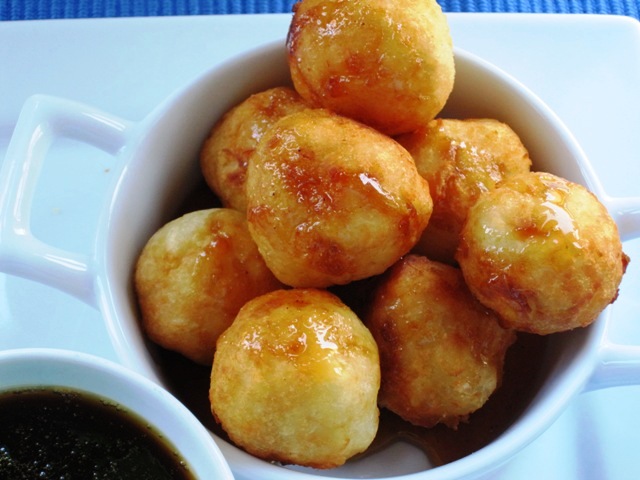 Yesterday I posted a recipe for Melado, so today I want to share with you a delicious recipe that uses this syrup. Yuca or cassava balls are a traditional Colombian recipe that you can eat as a side dish, snack or appetizer with your favorite sauce, including Melado, as in this recipe.
This unrefined sugar cane syrup is the perfect complement to these cassava balls. I love the combination of salty and sweet. But feel free to serve them with other sauces if you prefer or serve them plain as a side dish for grilled meats or seafood.
What do you need to make Yuca Balls with Melado
Yuca: This starchy vegetable is also known as cassava. You can use fresh or frozen yuca for this dish.
Oil: Vegetable or canola oil will work to fry these yuca balls.
Melado: This syrup is very popular in Colombia, it's made with raw sugar cane (panela). Here is the link for the my recipe for melado, but you can use dark brown sugar to make it if you don't find panela.
Below you will find the recipe card with ingredients and cooking directions.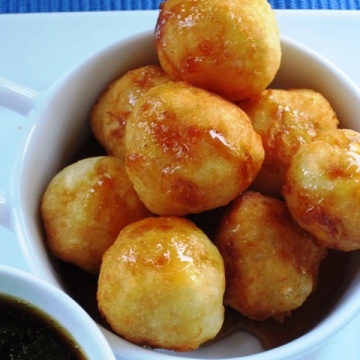 Cassava Balls with Melado Recipe
Ingredients
1 ½

lb

cooked and mashed yuca or cassava

Vegetable oil for frying

Melado
Instructions
Form small balls with the mashed yuca using your hands and place on a plate.

Fill a large skillet with oil, deep enough to cover the entire ball and heat over medium-high heat.

Carefully add the yuca balls to the oil and fry them for about 4 to 5 minutes or until golden on all sides, turning over once about halfway through.

Remove from the oil and transfer to a plate lined with paper towels to absorb the oil.

Place on a serving plate and pour the melado over the yuca balls.
Nutrition
Calories:
272
kcal
Carbohydrates:
65
g
Protein:
2
g
Fat:
0.5
g
Saturated Fat:
0.1
g
Polyunsaturated Fat:
0.1
g
Monounsaturated Fat:
0.1
g
Sodium:
24
mg
Potassium:
461
mg
Fiber:
3
g
Sugar:
3
g
Vitamin A:
22
IU
Vitamin C:
35
mg
Calcium:
27
mg
Iron:
0.5
mg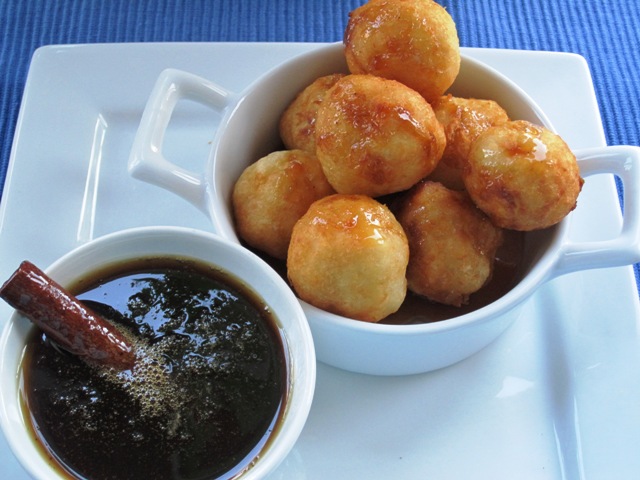 This Bolitas de Yuca con Melado recipe is more proof of just how versatile yuca is and how many ways Colombians have found to enjoy it in their cuisine. This dish is sweet and absolutely fantastic and your kids will love it too!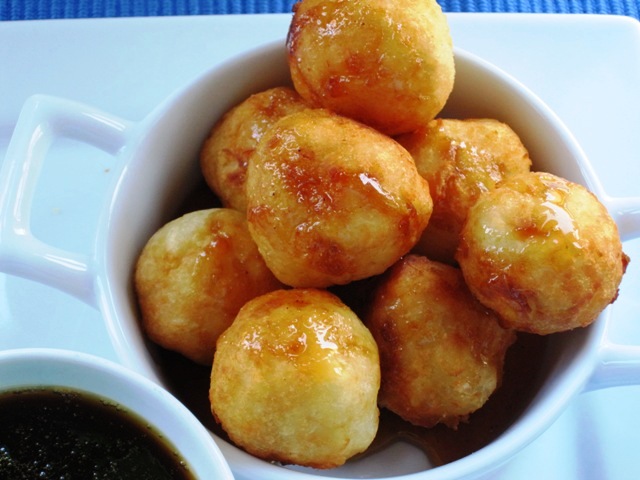 More recipes to make with Yuca