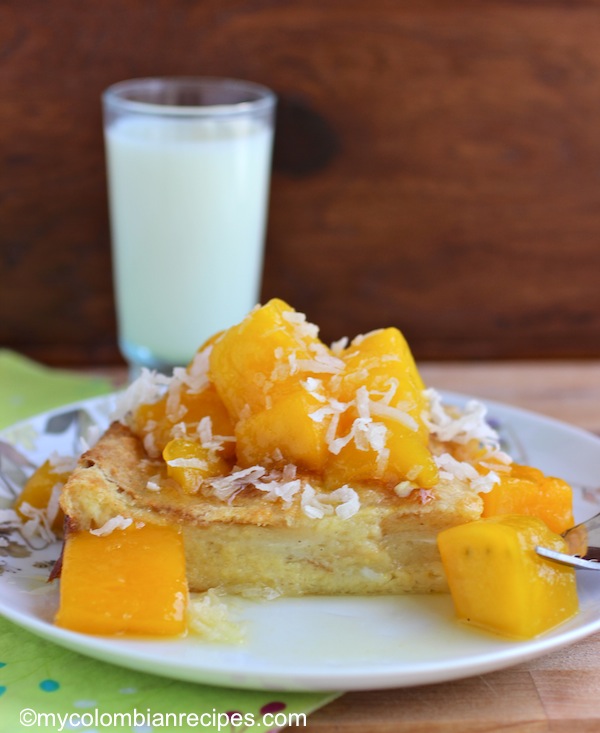 Bread pudding is one of those recipes that many people have memorized and can throw together without a second thought. My mom would make Colombian bread pudding effortlessly for an after school snack and we loved it!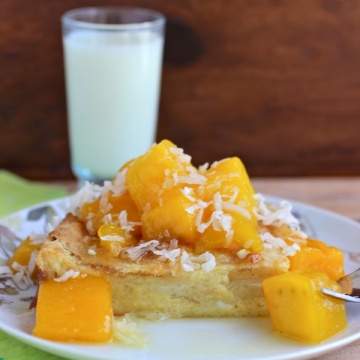 Coconut Bread Pudding with Mango Sauce
Ingredients
1

loaf white bread

cubed

3

cups

coconut milk

1

can

14 oz condensed milk

1

tablespoon

coconut extract

4

beaten eggs

½

teaspoon

cinnamon

½

cup

sugar

3

ripe mangoes

peeled and diced

6

tablespoons

of water

5

tablespoon

sugar

1

cinnamon stick

1

teaspoon

lime juice

Grated coconut for garnish
Instructions
Place the bread in a large baking pan and bake in a 400° F oven about 5 minutes.

In a large mixing bowl, whisk together the coconut milk, condensed milk, cocont extract, cinnamon, and the beaten eggs and mix well.

Add bread cubes to milk mixture. Let it stand for appromaximately 20 minutes or until bread absorbs most of the mixture.

our the bread pudding mixture into a baking pan. Bake uncovered in a 350° f oven for 1 hour or until a knife inserted into the center comes out clean.

To make the mango sauce: In a medium saucepan, over high heat, boil the water, sugar and cinnamon stick, Add the diced mango and the lime juice.

Bring to a boil and reduce heat to low, simmer until the liquid reduces and the sauce thickens, about 30 minutes. Stir occasionally to avoid burning and set aside.

Top the bread pudding with the mango sauce and grated coconut and serve.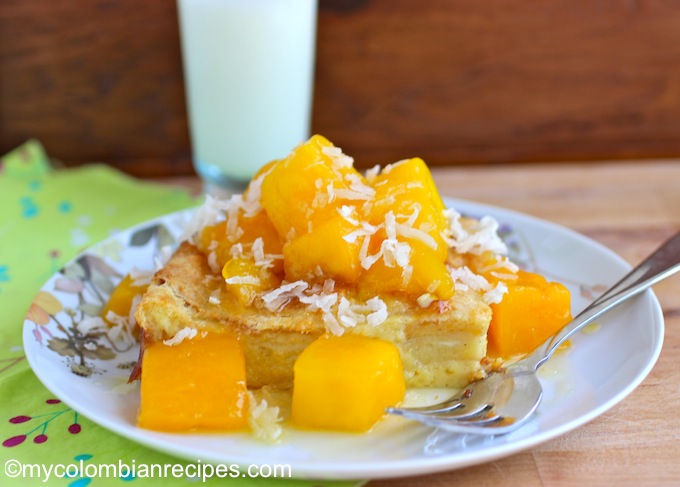 I know how to make a few desserts from memory and most of them are very easy and simple, while sometimes I like to be more creative and experimental with desserts. This means an occasionally recipe disaster, but being desserts, someone will usually eat the mess. Like I've said before, baking is not my thing!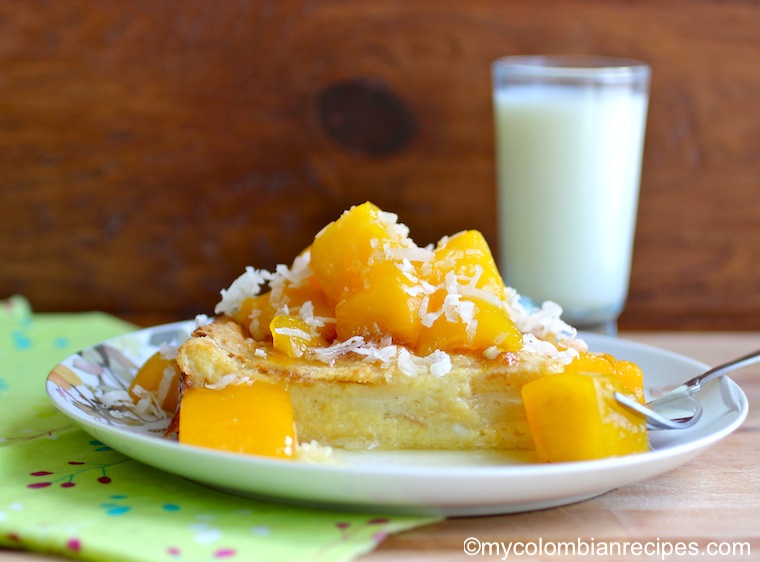 My most recent attempt at a dessert however, was not a disaster, on the contrary, I am happy to say. I made a Coconut Bread Pudding with Mango Sauce last week and it was fantastic. This recipe is very easy to make and can be almost entirely prepared in advance, while the final assembly can be done right before serving.
Buen provecho!