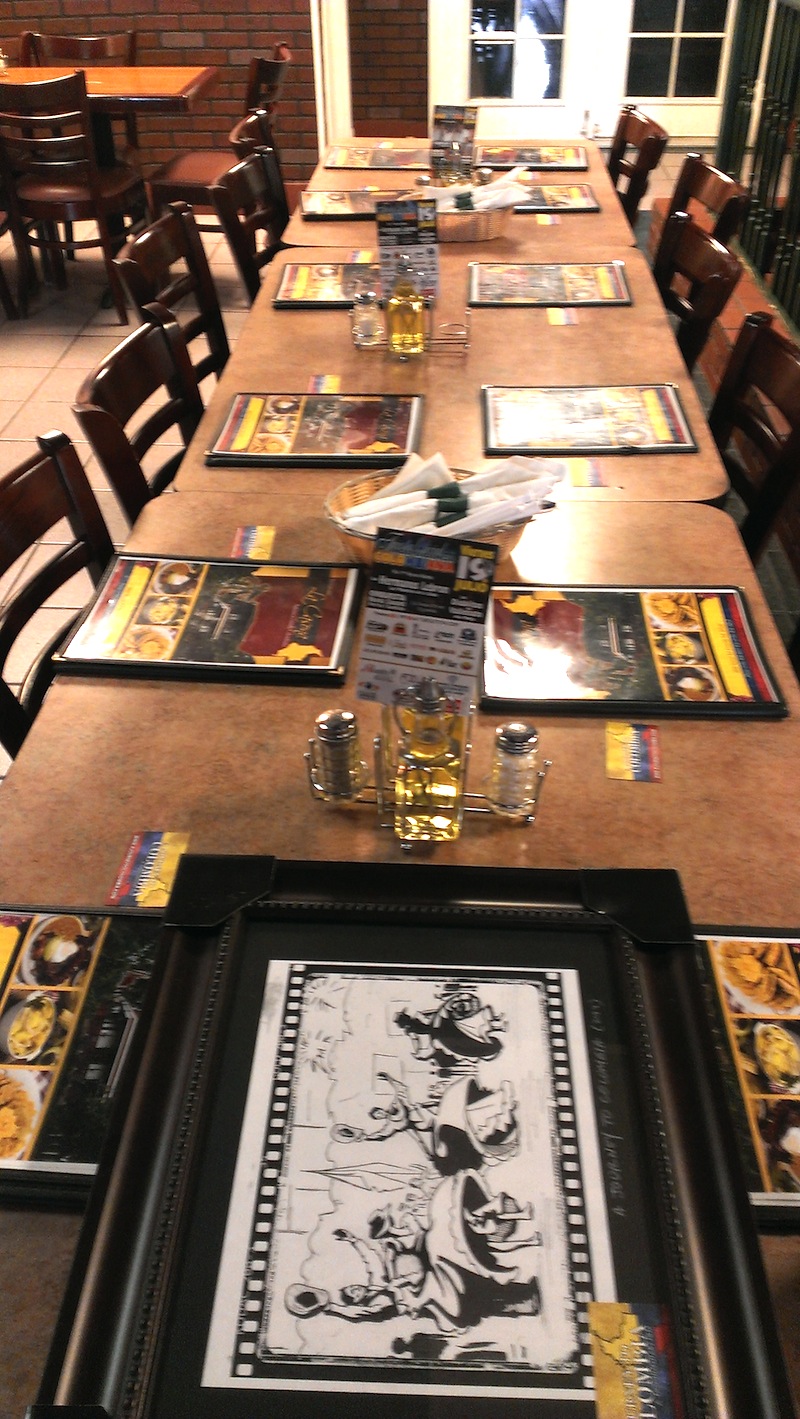 I am so happy to welcome my guest today, Luis Eduardo Villamizar, from "A Journey to Colombia".

You all know how much I LOVE Colombia. Any time I hear the mere mention of Colombia, I can't help but smile. I could talk about it (preferably in Español) for hours on end. So when I learned about this wonderful project, A Journey to Colombia, I was very excited to know that we have people like Luis Eduardo trying to show the world the positive and beautiful aspects of my country.
Luis Eduardo Villamizar is a director-producer-writer currently working on an upcoming documentary film entitled, A Journey to Colombia. Welcome Luis, and thanks so much for being here! ~Erica
Lunchtime, Colombian Style!
by Luis Eduardo Villamizar
This last year I've been working on a documentary film entitled, A Journey to Colombia. In the film, I plan to gives the audience insight of the search for my identity, family history and discovering the country of Colombia. The goal of the documentary is to educate about the beauty of Colombia and the Colombian people while contradicting Hollywood-stereotypes by displaying the country's diverse culture, economic, advances and the resilience of the people.
It has been a great year of discovery and new experiences. I've met so many people with similar stories and desire to visit Colombia. I've read new books, attended the first Colombian Film festival in New York and even tried cooking some of my favorite Colombian dishes for the first time. I've always had the luck of living somewhere that I could find some good Colombian food so my need of cooking these dishes wasn't something I had to do. Yet with this project, I've felt why not give it a try. With the help of Erica's recipes, I was able to make a sancocho de cola and empanadas. I was quite surprised at how good the food turned out, especially the stew.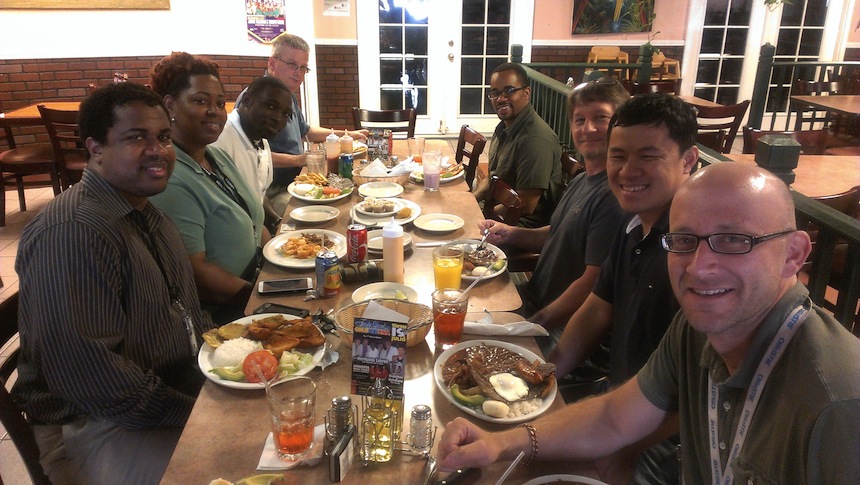 Since then a few co-workers have approached me about being their guide at a nearby Colombian restaurant for lunch. So I gladly accepted to teach my fellow American co-workers a thing or two about Colombian cuisine.
Lesson number one: As the date approached, I got an email inviting me to "Eatin' Columbiano". Before we get to the food, let's make sure we know what country the food is from. It's Colombia NOT Columbia.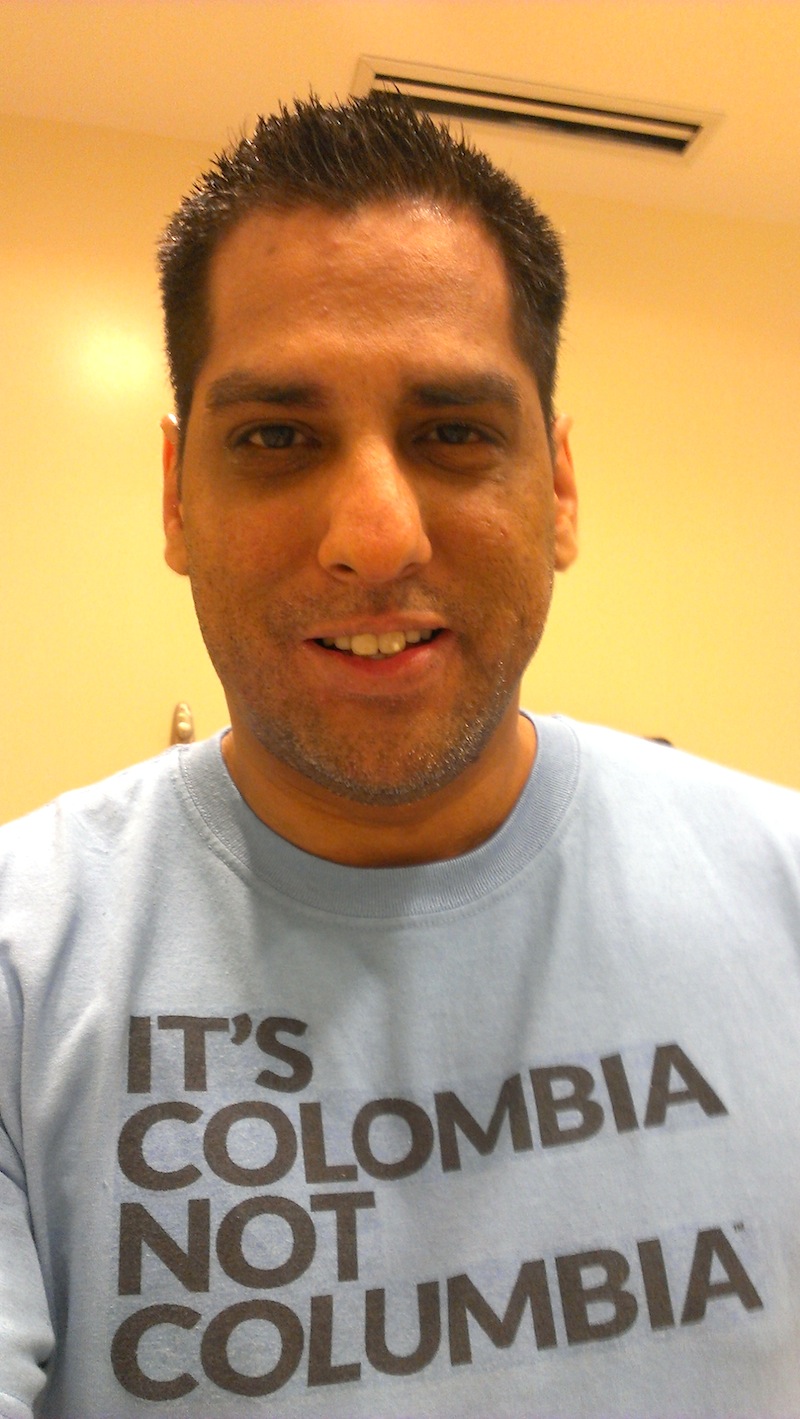 As the group arrived to La Casona Restaurante, I had some empanadas ready to welcome them. I explained the meat patties and the process to make them from my own experience. Everyone really seemed to like them as they quickly disappeared. As we looked over the menu, I started with the Bandeja Paisa. I explained that it includes beans, white rice, chicharrón, chorizo, fried egg, fried plantain, avocado, an arepa and a thin, grilled steak. Mouths were watering. Three people including myself got the bandeja and one person got the mini or smaller sized dish. One person got an arepa combo with shrimp, shredded meat and chicken. Two people got the carne asada con patacones, one breaded chicken and one grilled chicken.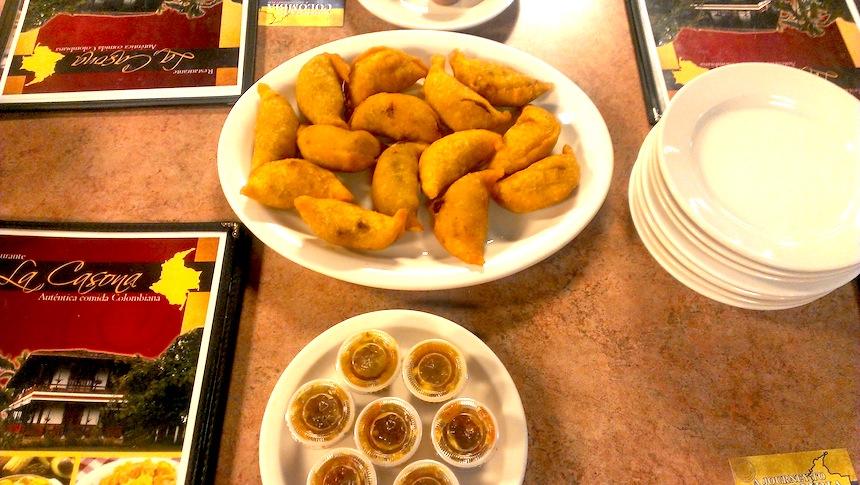 As we waited for the food, I shared a soda Colombiana with a few people so they could taste it. One of my co-workers ordered a jugo de mango and really enjoyed the flavor. Many of them were interested in how the food was prepared and wanted to know more about the different menu items. When the food arrived, the excitement and astonishment came out loudly as everyone gasped at the presentation and amount of food. Good size plates and heavy portions are always a signature of Colombian restaurants. I would say great music and impeccable service are as well.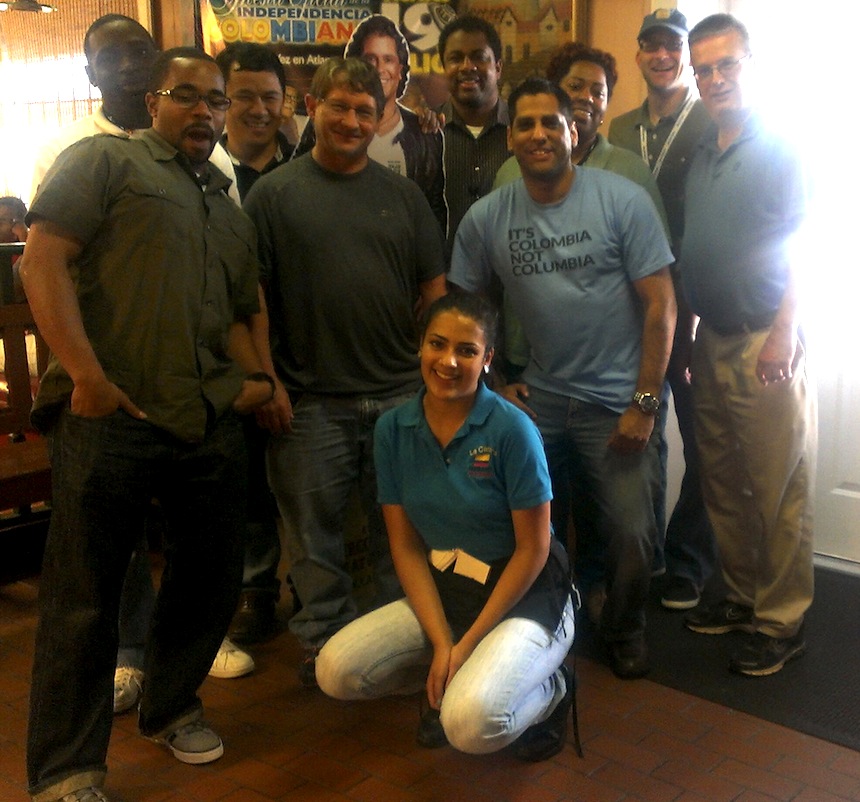 It was great experience to share a Colombian meal with my co-workers. I got to talk to them more about my upcoming documentary and share my love of Colombian food with them. I don't know if they will try to cook some of these dishes but with the restaurant being close to work, I'm sure to be seeing some Colombianas, empanadas, stuffed belly's and smiles around the office soon.