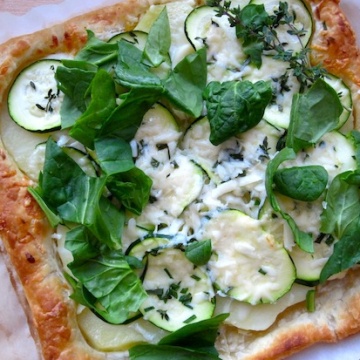 Potato, Zucchini and Spinach Tart
Ingredients
1

sheet frozen puff pastry

thawed

4

oz

cream cheese

2

garlic cloves

thinly sliced

1

large zucchini

sliced

1

large potato

peeled and sliced

½

teaspoon

fresh thyme

½

teaspoon

fresh parsley

chopped

½

cup

asiago cheese

shredded

1

cup

fresh spinach

Salt and pepper
Instructions
Preheat an oven to 400u02daF. Line a baking sheet with parchment paper.

Bring a pot of salted water to a boil over high heat. Add the potatoes and cook for about 3 to 5 minutes. Drain and season with salt and pepper.

Spread the cream cheese evenly over the pastry and top with the sliced potatoes and sliced zucchini. Sprinkle fresh thyme, parsley and asiago cheese on top.

Place the tart on the prepared baking sheet and bake until puffed, 10 to 13 minutes. Remove from the oven.

Garnish with fresh spinach. Cut into pieces and serve immediately.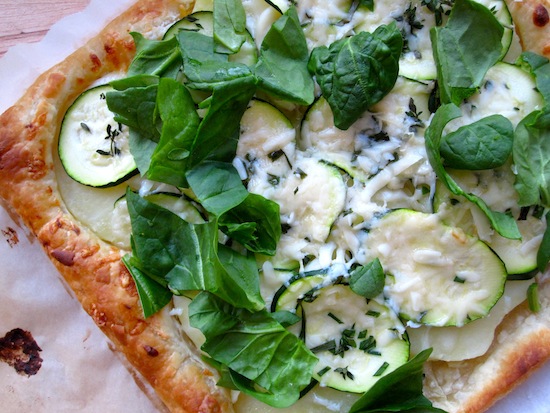 This particular tart is an idea that has been brewing in my mind for quite a while. I'm sure I could have made this post infinitely more popular by adding the word "bacon"to the ingredient list, but that's the great thing about Tarts, it's so easy to add or omit ingredients to suit your tastes. I guarantee you won't miss the meat in this tart.
Buen provecho!