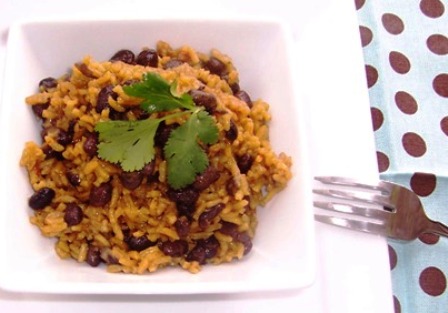 Arroz con Frijoles Negros is a complete one pot meal and all it requires is rice and beans which are two of the most popular ingredients used in Colombia. For a vegetarian version, exclude the beef bouillon and use vegetable instead.
Ingredients
(4 servings)
2 cups dried black beans, soaked overnight
2 cups long-grain white rice
2 cups hogao
2 cups water to make rice
2 beef bouillon tablets
1 teaspoon oregano
1 teaspoon salt
½ tablespoon tomato paste
½ teaspoon fresh ground pepper
Instructions
1. Drain the beans and put in a large pot. Cover with water and bring t a boil over high heat, Reduce the heat to medium low, cover and cook for about 45 to 50 minutes, or until tender, drain reserving the cooking liquid.
2. In a medium pot, add the hogao and rice, sauté for 2 minutes and stir until well coated.
3. Add the cooked beans, 2 cups of the cooking liquid and 2 cups of water. Add beef bouillon, oregano, salt, pepper and tomato paste, bring to a boil, then reduce the heat to low, cover and cook for 20 to 25 minutes.
4. Remove the rice from the heat, let it sit covered for 5 minutes and serve.
This was printed from MyColombianRecipes.com