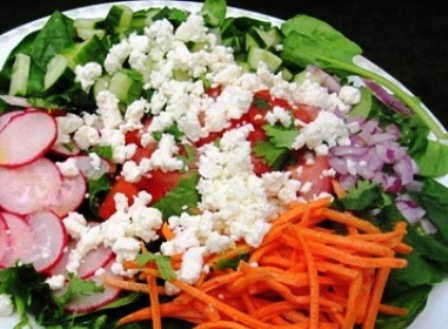 Even though I created this recipe almost two months ago, the ingredients are perfect right now. Summer is the season for great salads.
Enjoy!
Ingredients
(4 -6 servings)
4 cups pre-washed spinach
1 cup chopped cucumber
4 radishes, thinly sliced
1/3 cup chopped red onion
1 cup chopped tomato
2 cup shredded carrots
Juice of 2 limes
¼ teaspoon ground cumin
2 tablespoon white vinegar
¾ cup olive oil
¾ cup chopped cilantro
Salt and pepper
1 cup crumbled feta cheese
Directions
In a blender, combine the lime juice, ground cumin, white vinegar, olive oil, cilantro, salt and pepper. Blend until smooth.
To serve, place spinach in a large platter. Top with cucumber, radishes, onion,tomato, carrots and feta cheese.
Drizzle dressing over the salad and season with salt and pepper.
This was printed from MyColombianRecipes.com