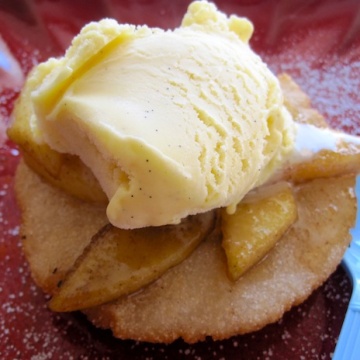 Sweet Arepas with Caramelized Apples (Arepas Dulces con Manzanas)
Ingredients
1

cup

masarepa

preecooked cornmeal

1

cup

warm water

2

tablespoons

sugar

½

teaspoon

cinnamon

Vegetable oil for frying

¼

cup

water

3

tablespoons

butter

Pinch

salt

2

peeled and sliced apples

4

tablespoons

brown sugar

¼

teaspoon

ground cinnamon

¼

cup

water
Instructions
To make the arepas: Combine the masarepa, warm water, cinnamon and sugar, mixing thoroughly. Let mixture stand for five minutes.

Knead with your hands for about 3 minutes, moistening your hands with water as you work.

Form 6 small balls with the dough. Place each ball between 2 plastic bags and with a flat pot cover, flatten to ¼ inch.

Heat the vegetable oil in a large heavy pot to 350 F. Add the arepas in the heated oil one by one, fry for 3 minutes, turning over once about half way through.

Using a slotted spoon, carefully remove the arepas from the oil and drain on paper towels and sprinkle with sugar. Set aside.

Place the butter in a skillet and melt over medium-high heat. Add a pinch of salt. Add the apples and sprinkle with the sugar and cinnamon and cook, stirring often, until slightly softened, about 2 minutes.

Reduce the heat to moderately low, add the water and cook until the apples are almost cooked through and the sugar has melted and is coating the apples in a light syrup.

To assemble: Place the arepas on a platter and top them with the apples and vanilla ice cream.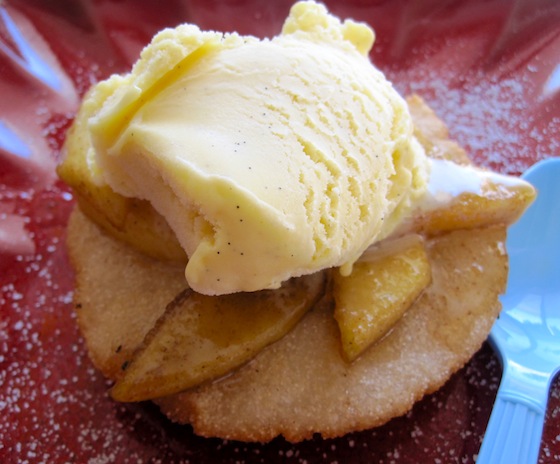 Fall is here and its around this time of year that I usually feel a little sad, having to say goodbye to summer, knowing that colder days are on the way. It is never easy for me! Having a bad cold at the moment isn't helping matters.
Having said that, fall does have it's up sides! I enjoy the turning of the leaves, the beautiful orange, red, and yellow colors that the season brings. And I of course enjoy the fall produce, like pumpkins, apples and pears.
Today I want to share another apple recipe with you. Sweet Arepas with Caramelized Apples. It is a delicious and simple dessert using one of my favorite Colombian foods... arepas!!
Buen provecho!