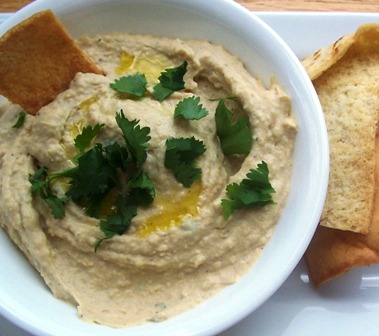 Hummus is one of my favorite dips and I usually just buy it store made, but it's always good to make it at home as it's easy and you can adjust the taste to your liking.
Ingredients
(About 11/2 cups)
1 can chickpeas (garbanzo beans), rinsed and drained
1 Garlic clove, crushed
¼ cup water
5 tablespoons of Tahini
3 tablespoons fresh lemon juice
1 tablespoon olive oil
½ teaspoon salt
¼ teaspoon black pepper
Cilantro for garnish (optional)
Directions
1. Place the garbanzo beans and garlic in a food processor and mix for about 20 seconds.
2. Add the remaining ingredients and process to form a smooth paste.
3. Serve or store in a covered container in the refrigerator.

If you liked this post, you can say thanks by sharing it:
Related Posts