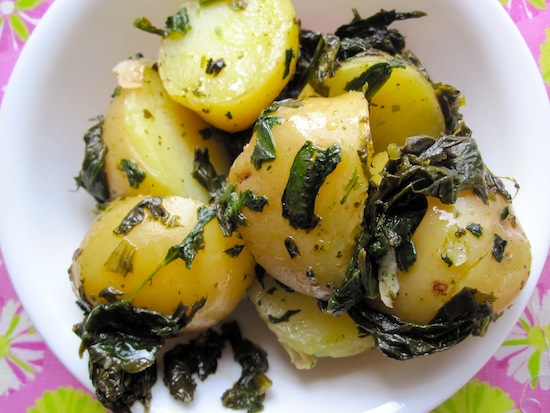 I want to share a simple, but delicious side dish with you today. I made these Potatoes with Spinach along side grilled salmon and it made for a wonderful and easy meal.
Enjoy it!
Ingredients
(4-6 servings)
2 pounds medium white potatoes, skin on and halved
2 tablespoons olive oil
1/4 cup finely chopped onion
3 garlic cloves, minced
1 pound spinach
Juice of 1 lemon
Salt and pepper
1/4 teaspoon red pepper flakes
Directions
Put the potatoes in a pot, cover with water and bring to a boil over medium heat. Salt the water and cook until the potatoes are tender.
Drain the potatoes and set aside.
In a large saucepan over medium heat. Add the oil, onion, garlic and cook, stirring occasionally, until the onion begins to soften, about 1 minute.
Add the spinach and red pepper flakes and cook, about 3 minutes. Add the potatoes, salt and lemon juice.
Stir and cook about 5 minutes more. Season with salt and pepper. Serve warm
Like this recipe? Please say thanks by sharing it...