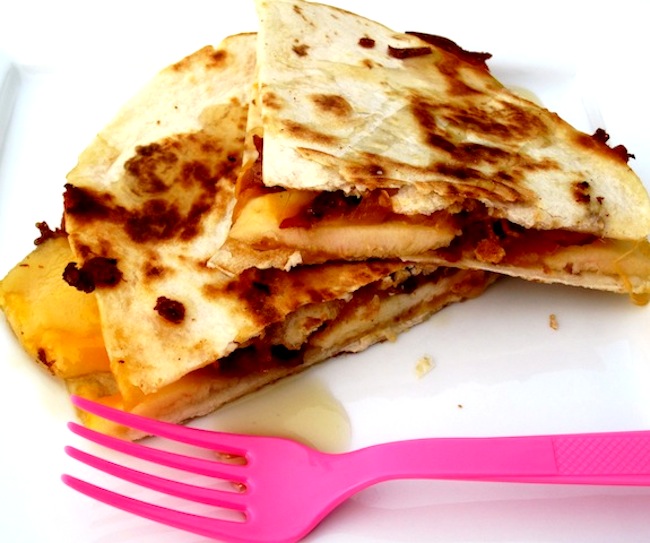 I made myself another yummy quesadilla for lunch this week. This time the filling was crispy bacon, cheddar cheese and delicious apples, drizzled with maple syrup. This would be a perfect lunch with a green salad and small bowl of soup. Simple, but filling, and very tasty! I absolutely loved it. I will be making this quesadilla again for sure, maybe in the fall when apples are season. Enjoy!
Ingredients
(4 Servings)
8 flour tortillas
1 apple, peeled and thinly sliced
1/2 teaspoon ground cinnamon
4 bacon slices, cooked and cut into small pieces
1 1/2 cups shredded cheddar cheese
Maple Syrup for serving
Directions:
On a work surface, spread 2 of the tortillas. Sprinkle the cheddar cheese over the bottom of each tortilla.
Add the apples evenly on top of the cheese, sprinkle with cinnamon, then top with bacon. Top with another tortilla.
Heat a large nonstick skillet with cooking spray over medium heat.
Carefully place 1 quesadilla in pan and cook 2 minutes. Using a spatula, gently flip the quesadilla and cook an additional 2 minutes until lightly browned and cheese is melted.
Repeat with second quesadilla. Serve warm and drizzle with maple syrup.
This was printed from MyColombianRecipes.com