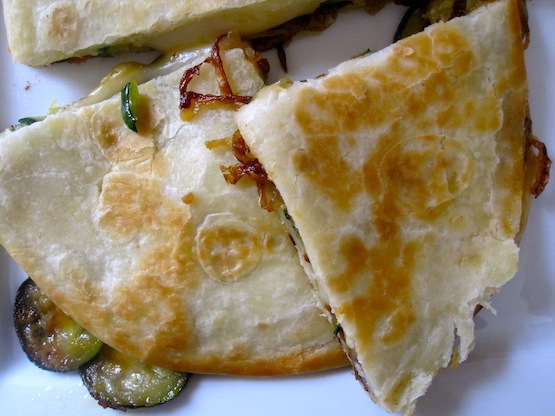 I had some leftover roasted vegetables from dinner, which gave me the idea to make a quesadilla. I love to make pastas or quesadillas because they are simple to make and versatile. Great for weeknight dinners.
This recipe is so simple, that after you make it once, why not try playing with the ingredients and creating a vegetable quesadilla of your own?
Buen provecho!
Ingredients
(2-4 servings)
For the vegetables

Olive oil
Salt and pepper
1/2 large onion, sliced
1 green zucchini, sliced
1 large red bell peppers, sliced
1 green peppers, sliced
1 garlic clove, minced
Handful of fresh thyme

For the quesadillas

4 flour tortillas, each 8 inches
2 teaspoons olive oil
1 cup shredded Monterey Jack cheese
1/2 cup salsa
2 tablespoons fresh  cilantro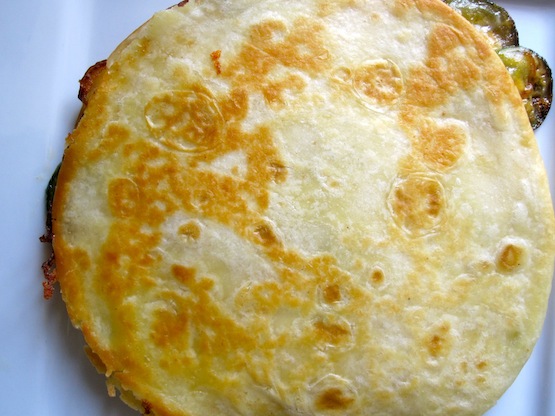 Directions
Put the vegetables in a baking dish lined with baking paper to prevent them from sticking. Drizzle with olive oil and add the garlic and thyme, season with salt and pepper.
Use your hands to mix well then, roast for 20-30 minutes. Set aside.
On a work surface, spread out 2 of the tortillas. Sprinkle the cheese over each tortilla.
Add the vegetables and salsa evenly on top of the cheese. Top with another tortilla.

Heat a large nonstick skillet with cooking spray over medium heat.
Carefully place 1 quesadilla in pan and cook 2 minutes.
Using a spatula, gently flip the quesadilla and cook an additional 2 minutes until lightly browned and cheese is melted.
Repeat with second quesadilla. Serve warm with guacamole and salsa.
This was printed from MyColombianRecipes.com