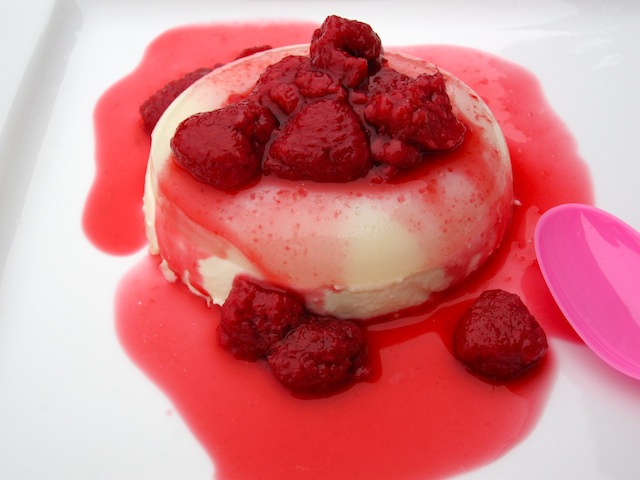 Panna Cotta is a classic Italian dessert that is very easy to make and absolutely delicious. I woke up craving a coconut dessert, so I decided to make a coconut version of Panna Cotta, by adding some coconut milk and topping it with a home made rapsberry sauce. The best thing about this dessert is that you can make it one day ahead, so it is great for entertaining.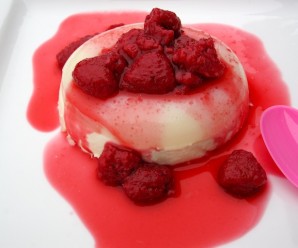 Coconut Panna Cotta
Ingredients
Panna Cotta

1

cup

coconut milk

3

cups

heavy cream

2

tablespoons

unflavored gelatin

4

tablespoons

water

½

cup

sugar

1

teaspoon

coconut extract

Cooking spray

Rapsberry Sauce

1

pin fresh rapsberries

Pinch

salt

1

tablespoon

sugar

1

teaspoon

lime juice

3

tablespoons

water
Instructions
To make the panna cotta:

Place the cream, coconut milk and sugar in a sauce pan. Stir often until the sugar has dissolved. Remove from the heat and add the coconut extract.

In a medium bowl place the gelatin and add the water. Stir well until combined.

Add the coconut milk mixture to the gelatin and stir well.

Using cooking spray, grease 6 ramekins & set aside.

Pour the panna cotta mixture into the ramekins. Place in the refigrerator for at leats 4 hours or until ready.

To make the rapsberry sauce:

Place all the ingredients in a small saucepan over medium-low heat and cook for about 20 minutes, stirring occasionally.