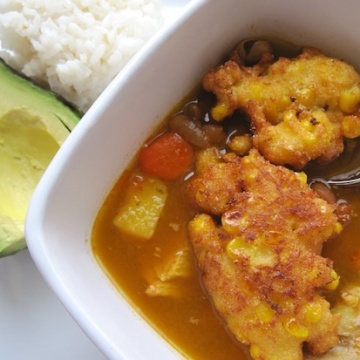 Frijoles Verdes con Torticas de Choclo (Bean Soup with Corn Fritters)
Ingredients
1

pound

canary beans soaked overnight

2

pounds

pork meat or ribs

cut into pieces

12

cups

water

2

cups

diced carrots

½

tbsp

ground cumin

1 ½

cups

hogao

½

tablespoon

sazon goya with azafran

1

large potato

peeled and diced

1

beef bouillon tablet

Salt and pepper

½

cup

chopped cilantro

1 ½

cup

fresh corn kernels

¼

cup

corn meal

1

tablespoon

melted butter

½

cup

of milk

1

beaten egg

1

tablespoon

sugar

¼

teaspoon

baking powder

Salt and pepper

Oil for frying
Instructions
Heat oil to 325 degrees F. Place the corn in a food processor and process for about 2 minutes.

In a medium bowl, combine corn meal, baking powder, sugar, corn, butter, milk, egg, salt and pepper. Stirring well.

Pour oil to a depth of 2 inches in a skillet. Drop by tablespoons into hot oil. Cook 2 to 4 minutes, or until golden, turning once. Drain on paper towels. Set aside.

To serve: Ladle the soup in a bowl. Arrange the fritters in the center of the soup. Garnish with fresh cilantro.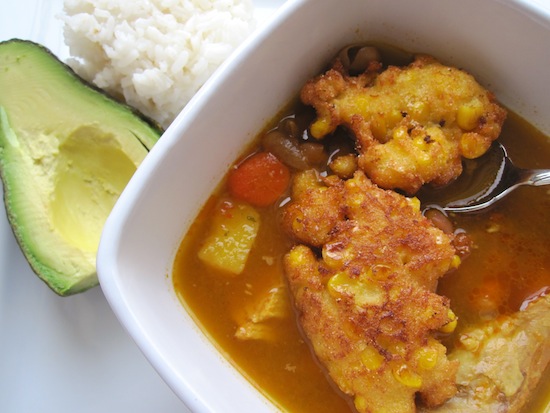 A couple of weeks ago I made one of my favorite Colombian soups from the Antioquia department of the country. A rich canary bean and pork soup topped with fried corn fritters. I like to serve it with white rice and avocado on the side.
If you've been visiting my site for a while, you know that Colombians love homemade soups. And, if you love fresh ingredients like me, canned soups are just not for you. Let me tell you, hearty soups are simple to make at home from scratch.
I think you'll love this soup, even on a sunny spring day!