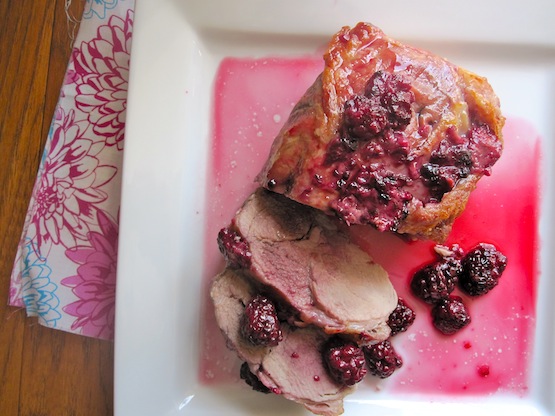 Lomo de Cerdo con Salsa de Moras is a traditional Colombian dish from "El Departamento de Nariño." You can also use Lulos for a delicious variation of this dish. Lulo is a fruit popular in Colombia and South America. It is known as naranjilla in Ecuador and it is absolutely delicious.
In the USA I find frozen lulo pulp at my local Latin market. This dish was heaven, and since my husband is a vegetarian, I got to eat it all. Something tells me that as long as berries are in season, there will be several more main dishes like this one.
Buen provecho!
Blogher and Purina are learning about ProPlan Selects – click here to check it out!
Ingredients
(4-6 servings)
For the Blackberry sauce

2 cups fresh blackberries
1 cup water
1 cup white wine
1/2 cup sugar
1 tablespoon lime juice

For the Pork

1 boneless pork loin, about 3 lb., tied
Salt and pepper
4 garlic loves, minced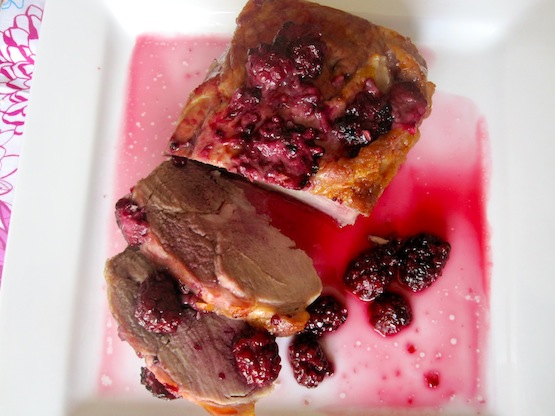 Directions
To make the sauce:
ring berries, sugar, wine and water to a simmer in a medium saucepan, stirring occasionally. Simmer over low heat for 5 minutes. Set aside.
For the pork:
ub the pork with minced garlic, salt and pepper. Place in a large sealable plastic bag and refrigerate for at least 1 hour or up to overnight.
ring the pork to room temperature. Preheat the oven to 425°F.
Place the pork loin in a baking pan and cook for about 30 minutes, drizzle 1/2 of the sauce over the pork and continue to cook for another 15 minutes, or until a thermometer inserted into the middle of the pork reads exactly 138 degrees.
Remove from the oven and cover the meat with aluminum foil and allow it to rest for 15 minutes. Remove the strings from the meat and pour the rest of the sauce over the pork.
Slice the pork and serve warm.
This was printed from MyColombianRecipes.com