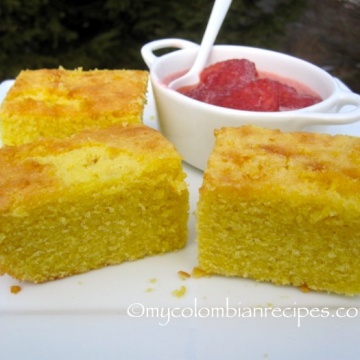 Mantecada (Colombian-Style Butter Corn Bread)
Ingredients
1 ½

cups

corn meal

½

all purpose flour

1

teaspoon

baking powder

2

sticks unsalted butter

1

cup

of sugar

5

large eggs

1

teaspoon

of vanilla extract

1

tablespoon

of milk

rum or aguardiente
Instructions
Preheat an oven to 350°F. Butter a 9-inch square cake pan.

In a large bowl, using an electric mixer on medium speed, beat together the butter and the sugar until creamy. Add the eggs one at a time, beating well after each addition. Stir in the vanilla extract and rum.

In another bowl, stir together the corn meal, baking powder and flour. Add the dry ingredients to the wet ingredients in 2 additions, beating on low speed after each addition until smooth. Spread the batter evenly in the prepared pan.

Bake until a toothpick inserted into the center comes out clean, about 35 minutes. Remove from the oven and let stand for 10 minutes, then turn out onto a rack to cool. Cut into squares.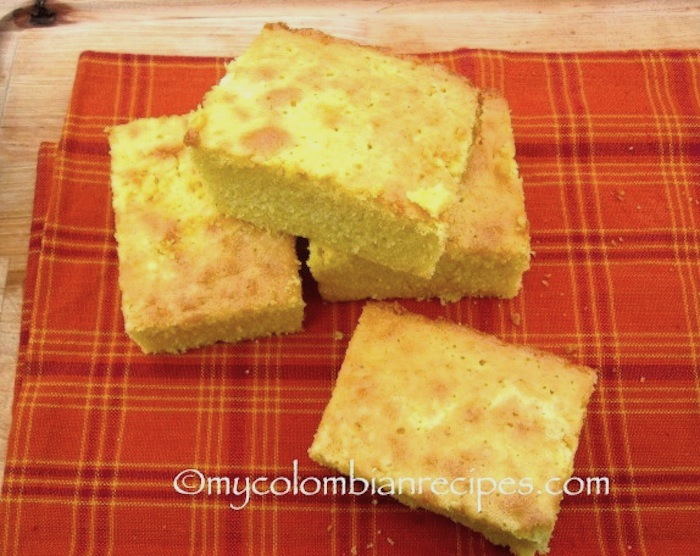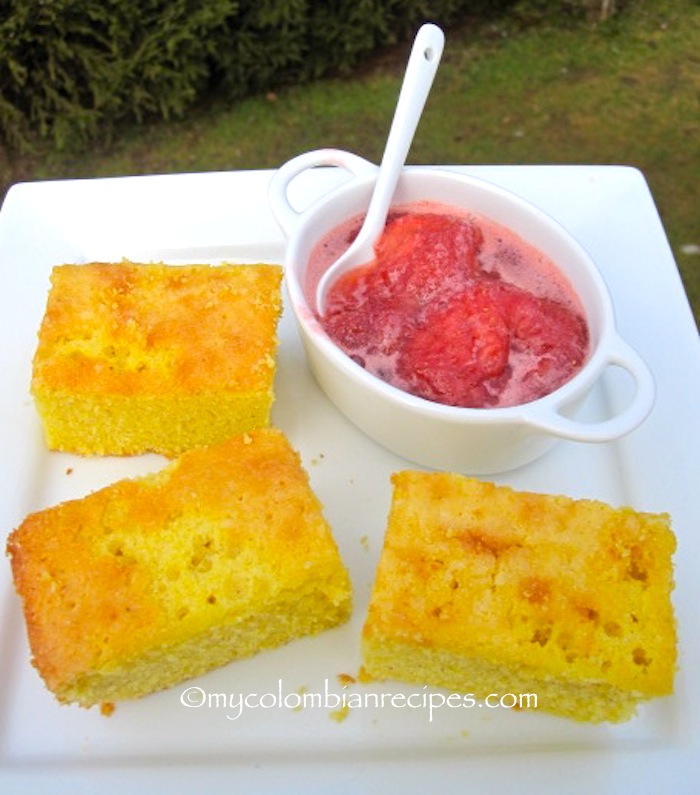 Mantecada is a traditional Colombian butter corn cake that is very popular in the capital of the country, Bogotá. This cake tastes best when freshly prepared and it is usually served with berry preservers (Dulce de Mora o Fresa) on the side.
The first time I had Mantecada was in a hotel in Bogotá about fifteen years ago while training for a new job. They served it to me as a complimentary afternoon snack with fresh blackberry preserves on the side and I fell in love with it. I have been receiving requests from my readers for this recipe ever since I began blogging, so I went to one of my good friends here in the United States, who is from Bogotá, and she shared her mom's recipe with me.
Some Colombian people add aguardiente, an anise flavored liquor, others add rum, while others don't add any alcohol at all to the batter. So, you can decide what to add to your Mantecada, depending of your taste. I like mine with a little rum flavor. This recipe tastes just like I remember it.
Buen provecho!