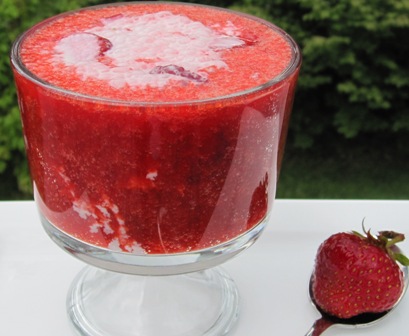 One of the things I love most about spring and summer is the fresh fruits and vegetables available. Strawberries are definitely one of my favorite fruits. When I was growing up in Colombia, I loved to go out of the city with my family on weekends, stopping at fruit stands on the side of the country roads where we would find some of the most beautiful fresh fruit. The fruit stands served "fresas con cream" or strawberries with fresh heavy cream and sweetened condensed milk. They are absolutely delicious!
This strawberry soup was inspired by that fantastic and simple Colombian dessert. Enjoy!
Ingredients
(4-6 Servings)
2 ½ cup fresh strawberries, chopped
1/3 cup fresh strawberries, thinly sliced
¼ teaspoon ground cinnamon
1/3 cup sugar or to taste
Juice of ½ a lime
1 1/2 cups of cold water
¼ teaspoon vanilla extract
1/3 cup heavy cream
¼ cup sweetened condensed milk
Directions
Place all the ingredients in a blender, except the sliced strawberries, heavy cream and sweetened condensed milk.
Blend until the mixture is smooth.
In a small bowl mix the heavy cream and condensed milk. Set aside.
Spoon the soup into serving bowls, add some of the sliced strawberries and garnish with 3 tablespoons of the cream mixture of more if you like.
This was printed from MyColombianRecipes.com