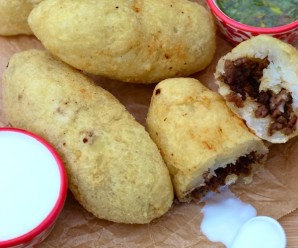 Carimañolas de Carne y de Queso (Meat and Cheese Stuffed Yuca)
Ingredients
1 ½

pound

frozen or fresh yuca

Vegetable oil for frying

Salt

1

cup

mozzarella cheese

diced

2

tablespoons

vegetable oil

1

garlic clove

minced

¼

cup

red bell pepper

chopped

½

cup

chopped onion

1

scallion

chopped

Salt and pepper to taste

½

teaspoon

ground cumin

1

tablespoon

tomato paste

½

pound

ground beef
Instructions
In a large pot place the yuca, salt and enough water to cover. Bring to a boil, then reduce the heat to medium and cook for about 15 minutes or until fork tender.

Drain the yuca and remove any fiber from the center. Using a potato masher, mash the yuca, cover and set aside.

To prepare the meat filling: In a large skillet, heat the oil over medium-high heat. Add the onions, red bell pepper and cook until soft, about 3 minutes. Add the garlic, scallions, cumin, salt, black pepper and cook for about 1 minute, stirring often.

Add the ground beef and cook until the meat is cooked trough, about 7 minutes. Add the tomato paste and cook for 2 minutes more.

Remove from the heat, adjust the seasoning and let it cool.

To make the carimañolas: Divide the yuca mixture into 10 balls. Make a hole through the center of each ball with your finger. Place about 1 tablespoon of meat or cheese filling and gently close the ball, giving an oval shape.

In a large pot heat the vegetable oil and heat to 350° F. Add the carimañolas to hot oil and cook about 2 to 3 minutes until golden brown, turning them often.

Remove from the oil with a slotted spoon and drain on paper towels. Serve warm with ají.
Nutrition
Calories:
231
kcal
Carbohydrates:
28
g
Protein:
8
g
Fat:
10
g
Saturated Fat:
4
g
Polyunsaturated Fat:
2
g
Monounsaturated Fat:
3
g
Trans Fat:
1
g
Cholesterol:
25
mg
Sodium:
108
mg
Potassium:
296
mg
Fiber:
2
g
Sugar:
2
g
Vitamin A:
239
IU
Vitamin C:
20
mg
Calcium:
77
mg
Iron:
1
mg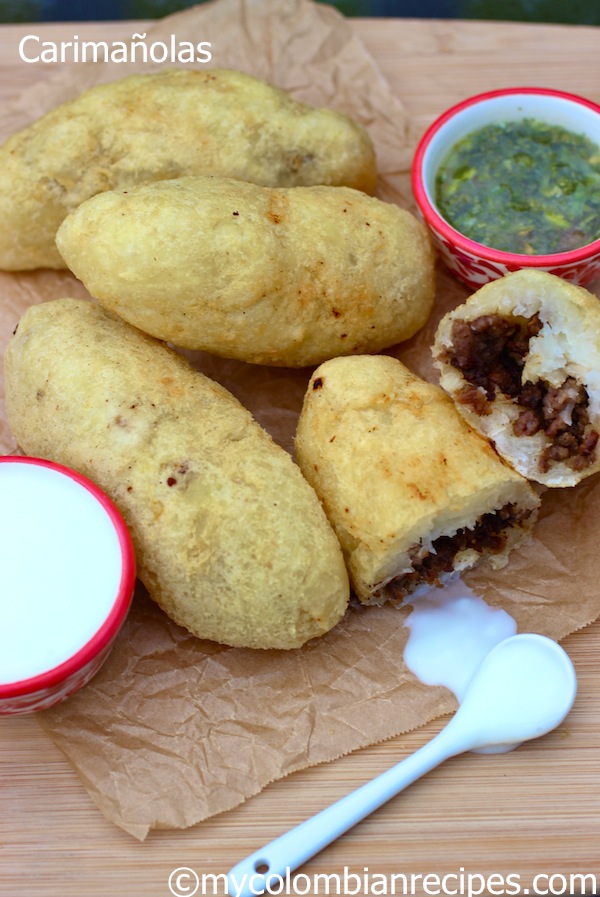 Carimañola is a traditional dish from the Caribbean region of Colombia. It is a yuca fritter stuffed with meat, or cheese for a great vegetarian version. This dish is also popular in Panamá.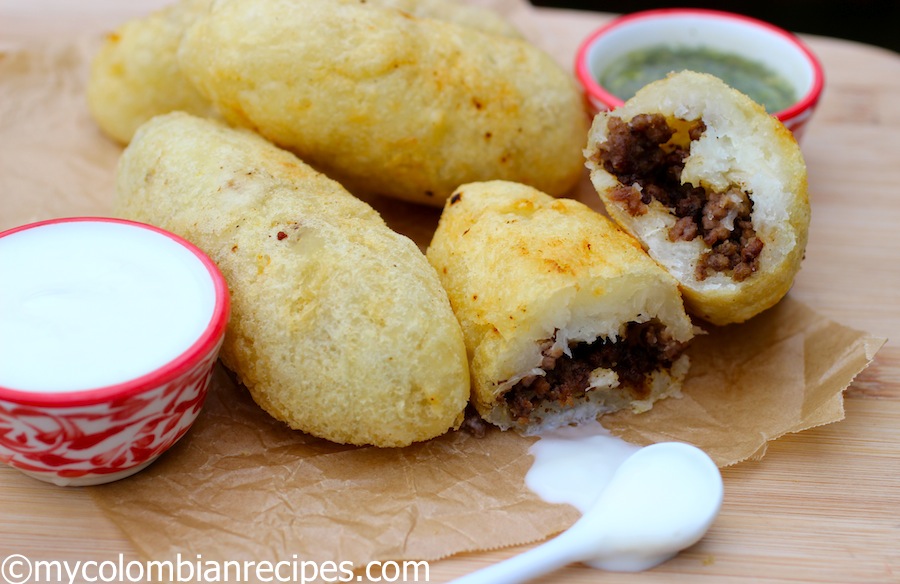 I usually don't like to eat fried food, but once in a while I crave my Colombian fritters. Since I have to blog about Colombian cuisine, which includes all these fantastic fritters, I have the perfect excuse to eat them. :)Carimañolas are delicious with suero Costeño or ají! Try them.