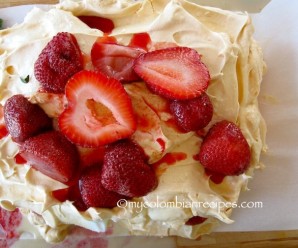 Merengón de Fresas (Colombian Strawberry Meringue Dessert)
Ingredients
5

large egg whites

at room temperature

11/2

cups

cup of granulated sugar

½

tablespoon

of lime juice

¼

teaspoons

of vanilla extract

3

cups

of fresh strawberries

sliced

¼

cup

sugar

1

cup

of heavy cream

1

teaspoons

of vanilla extract

2

tablespoons

of powder sugar
Instructions
Place a rack in the center of the oven and preheat to 250u00ba F degrees. Line two small, or one large, baking sheets with parchment and set aside.

Place the egg whites in a bowl and with and electric mixer, whisk until soft peaks form.

Increase speed to high and gradually add granulated sugar, about 3 tablespoons at a time, add the lime juice and keep whisking until stiff peaks form. The whites should be firm but moist. Occasionally scrape down the side of the bowl.

Spoon half of the meringue onto the prepared baking sheet, flatten with a spatula making sure the base of the meringue is not too thin. Place the rest of the meringue on another baking sheet.

Bake the for about 2 hours until the meringue is crispy. Turn the oven off and leave the meringue in the oven, with the door ajar until cooled completely about 2-4 hours. Do not remove it from the oven when it is still warm.

To make the filling: Place the strawberries in a bowl with the granulated sugar to macerate until the meringue is ready.

Whisk the whipped cream with the vanilla and powdered sugar until stiff and fluffy.

To assemble: Using a spatula, spread the whipped cream over the meringue, add strawberries then place the second meringue on top. Spread another cream layer and add the rest of the strawberries on top.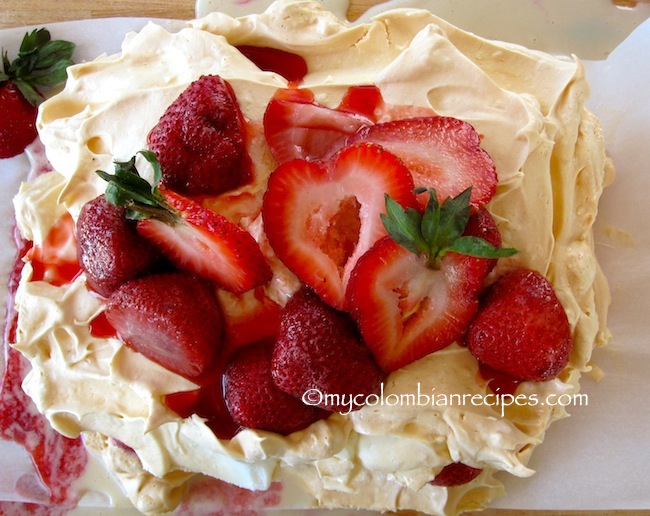 Merengón is a traditional Colombian based meringue dessert. The classic Merengón is filled with whipped cream and guanabana, a popular Colombian fruit. There are other variations of this dessert as well that are filled with various fresh fruits, such as strawberries, peaches and Colombian blackberries (mora).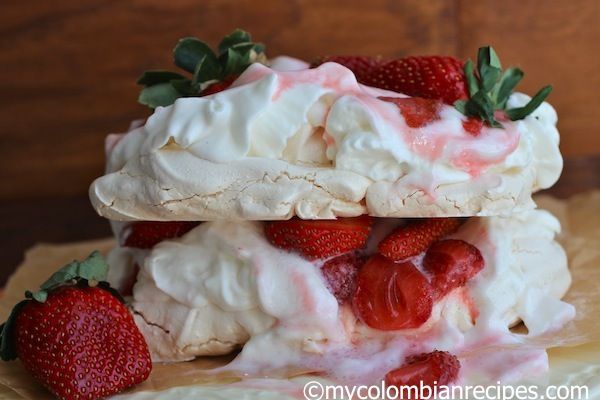 Merengón de Fresas is a wonderful dessert. Just imagine, layers of crunchy and sweet meringue, creamy whipped cream, and juicy and tangy strawberries. It has the perfect combination of textures and flavors.
Buen provecho!