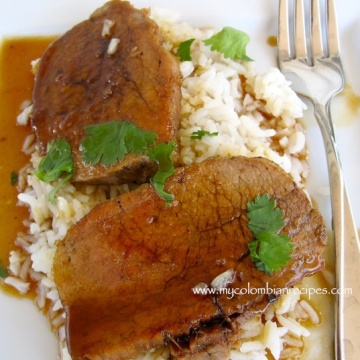 Muchacho con Melao de Panela (Beef with Cane Sugar Syrup)
Ingredients
3

pounds

of Boneless Rump Roast

3

tablespoons

of oil

3

tablespoons

of white vinegar

1

tablespoon

of ground cumin

1

cup

finely chopped onion

6

garlic cloves

minced

3

tablespoons

of yellow mustard

4

scallions or green onions

diced

Salt and pepper

3

cups

of water

3

bay leaves

1

tablespoons

of fresh thyme

1

tablespoon

fresh oregano

¼

cup

of melao de panela
Instructions
Place the beef in a non-reactive dish.

Place the white vinegar, ground cumin, mustard, onion, scallions, salt and pepper in the blender or food processor.

Rub the onion mixture all over the beef. Let it rest for 2 to 3 days in the fridge.

Heat the oil in a large pot and place the beef and brown, searing it on both sides.

Add the water, bay leaves, thyme and oregano. Bring to a boil, then reduce the heat and simmer about 3 hours or until the meat is very tender.

Take the beef from the pot. Let it rest for at least 15 minutes, tented in aluminum foil to keep warm, before carving to serve.

Meanwhile make the sauce: Add the melao to the pot and mix with the cooking water that is left in the pot from the beef. Mix well and cook for about 2 minutes over low heat. Place the sauce in a blender and blend until smooth and pour on top of the beef. Serve over white rice.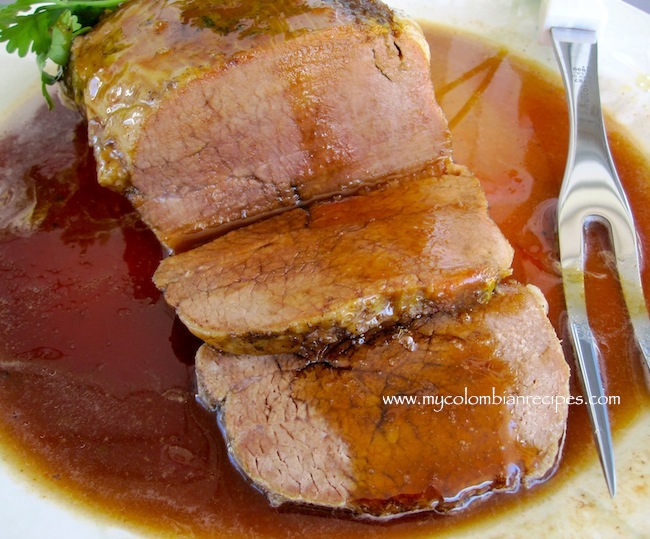 Muchacho con Melao de Panela is a traditional Colombian dish from El Valle department of Colombia. It is beef marinated in a sauce of vinegar, onion, garlic, mustard, scallions and cumin, and cooked on the stove for a couple of hours. The beef needs to marinate for a couple of days, as this is the best way of preparing it so that the meat will be tender and absorb all the flavors. However, it is possible to marinate for only a day, or even a couple of hours, if you're pressed for time.
Buen provecho and happy Father's Day to all of the Dads out there!