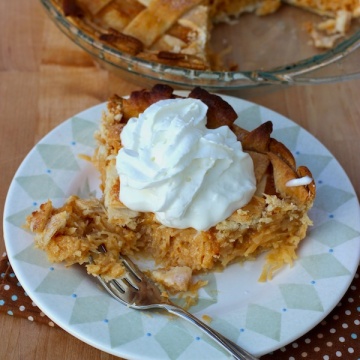 Pastel de Coco (Colombian-Style Coconut Pie)
Ingredients
3

cups

all-purpose flour

1

teaspoon

salt

2

tablespoons

granulated sugar

7

tablespoons

vegetable shortening

½

cup

cold unsalted butter

cut into ¼ inch pieces

10

tablespoons

ice water

Dulce de coco

See recipe here

1

egg yolk

2

tablespoons

of flour
Instructions
To make the dough, in a bowl, combine the flour, sugar and salt.

In a food processor, pulse the flour mixture until blended, about 5 pulses. Add the butter and process until the mixture resembles coarse meal, about 20 pulses. Add ⅓ cup of the ice water and pulse twice. Turn the dough out onto a work surface, divide in half and shape each half into a disk. Wrap the disks separately in plastic wrap and refrigerate for 1 hour.

Remove 1 of the pastry disks from the refrigerator and let stand for 5 minutes. Place the dough between 2 sheets of lightly floured waxed paper and roll out until 14 inches round. Brush off the excess flour, transfer to a pie pan and press the dough into the pan. Trim the dough so that it is flush with the top edge of the pan. Cover with plastic wrap and refrigerate for 30 minutes.

Preheat an oven to 400°F. Place a baking sheet on the middle rack.Mix all the filling ingredients and set aside.

On a lightly floured surface, roll out the remaining dough disk until 12 inches round. Using a pizza cutter or a knife, cut out a strips for the top.

Transfer the filling to the pie pan. Lay strips of dough, evenly spaced, across the pie horizontally and vertically. Trim the strips and crimp the pie edges. Lightly brush the top with water and sprinkle with sugar.

Place the pie on the baking sheet and bake until the crust is set and begins to brown, 25 to 30 minutes. Rotate the pie and reduce the oven temperature to 375°F degrees. Continue baking until the crust is golden brown, 10 to 20 minutes longer.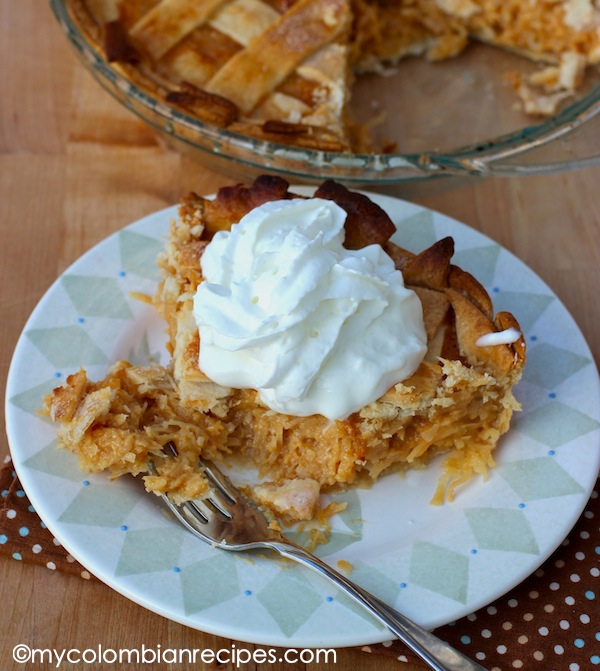 This Pastel de Coco is a traditional dessert from the Atlantic coast of Colombia. Coconut is a very important ingredient in the coastal regions of the country, and it is used in both savory and sweet dishes.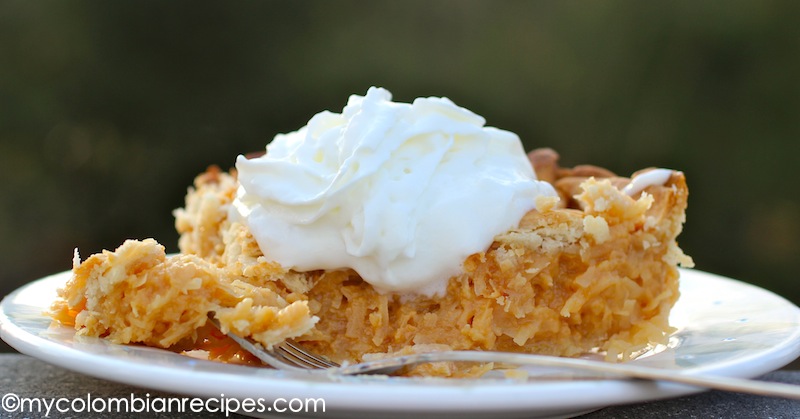 Colombian-Style Coconut Pie has always been an absolute favorite of mine, given my long running love affair with dulce de coco (coconut fudge). I love the combination of the rich and sweet filling with the texture of the shredded coconut. Pair that with a buttery, flaky crust and you pretty much have heaven, as far as I'm concerned.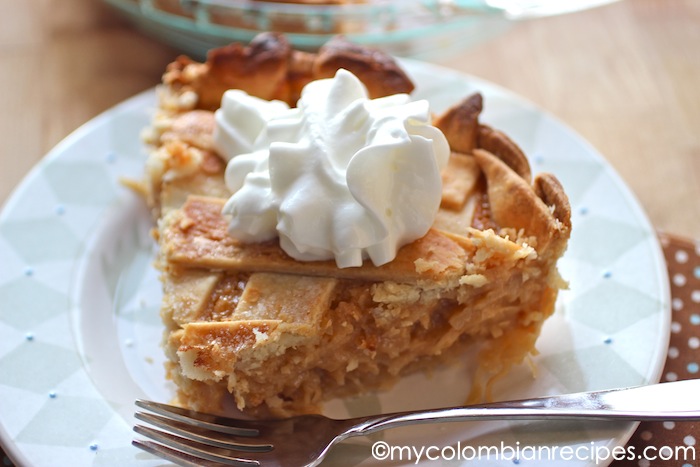 Some people feel that this pastel de coco is too sweet, so be sure to serve small portions topped with whipped cream or vanillla ice cream. If you don't feel like making your own pie crust, feel free to use store bought pie crust.
Buen provecho!