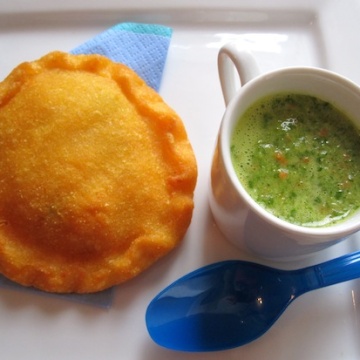 Pasteles de Pollo (Colombian Fried Chicken Pies)
Ingredients
Vegetable oil for frying

Lime and aji for serving

2

cups

masarepa

½

cup

water

1

tbsp

vegetable oil

½

teaspoon

salt

½

tablespoon

sazon goya with azafran
Filling
2

cups

cooked and shredded chicken

1

cup

peeled and diced white potatoes

¼

cup

peas

¼

cup

diced carrots

1

chicken bouillon tablet

1

tbsp

olive oil

¼

cup

chopped white onions

1

cup

tomato

½

teaspoon

salt

¼

cup

chopped green onions

1

chopped garlic clove

2

tbsp

chopped fresh cilantro

2

tbsp

chopped red bell pepper

¼

teaspoon

black pepper
Instructions
Place the masarepa in a large bowl. Add the sazon Goya and salt and stir to mix well. Add the water and oil and mix to form dough. Pat the dough into a ball and knead for 2 minutes or until smooth. Cover with plastic and set aside for 20 minutes.

Meanwhile, to make the filling, cook the potatoes in a pot with water and the bouillon tablet for 20-25 minutes or until tender. Drain and gently mash the potatoes. Set aside.

Heat 1 tablespoon olive oil in a large, heavy skillet. Add the onion and cook over medium-low heat stirring frequently, for 5 minutes. Add the tomatoes, green onions, garlic, bell pepper, cilantro, salt and black pepper. Cook for about 15 minutes.

Add the cooked chicken, peas and carrots. Transfer the chicken mixture to the mashed potatoes bowl and mix well to combine.

Break small portions of the dough, about 1 ½ tablespoons each one, and form each portion into a ball by rolling between the palms of your hands.

Place the balls of dough between two pieces of plastic and roll each out very thinly to form a circle. Remove the top plastic and place 1 tablespoon of the filling in the center of each. Place another circle on top to enclose the filling.

Tightly seal the edges by crimping with the tines of a fork or using your fingers.

Fill a large pot with vegetable oil and heat over medium heat to 360° F.

Carefully place 2 or 3 pasteles at a time in the heated oil and fry for about 2 minutes until golden on all sides.

Using a slotted spoon transfer the pasteles to a plate lined with paper towels. Serve with aji and lime wedges on the side.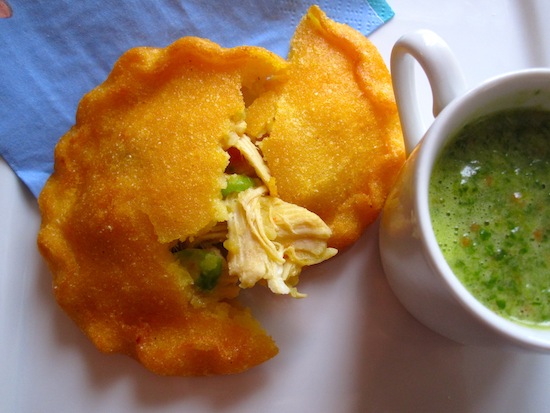 Spring is here guys an I am very happy winter is gone 🙂
Life has been busy over the past couple of weeks. Our little baby is here and I didn't sleep for days. Actually, I still don't sleep much! Our family and friends have been wonderful, especially my mother-in-law, who helped me with everything. They are bringing us amazing food and gifts and I really appreciate every bit of help I get, especially when I am this busy and tired! My family does not live here, so I am a lucky girl to have such wonderful in-laws. I made this recipe before I went to the hospital and I want to share it with you today.
I would eat these Pasteles de Pollo every day if I could...probably not a healthy idea 🙂 They are the perfect breakfast or afternoon snack with a hot cup of black coffee or hot chocolate. It is very important to be sure the pasteles are sealed well.
This recipe makes a great appetizer as well. They can be made in advance and fried right before serving. The fillings can be customized easily, and they look and taste delicious.
Enjoy it!