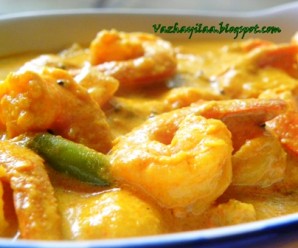 Prawn and Mango Curry
Ingredients
Prawns/Shrimp- 1 cup

Raw mango diced – ½ cup

Onion sliced – 1 nos

Ginger – a small piece

Garlic – 2-3 pods

Green chillies – 3-4 nos

Chilli powder – 1 tsp

Coriander powder – 1 tsp

Turmeric powder – ½ tsp

optional

Thin coconut milk – 1 cup

Thick coconut milk – ½ cup

Salt to taste

Mustard seeds

Oil

Curry leaves
Instructions
In a coffee grinder or mortar and pestle , crush ginger, garlic and green chillies. Heat oil in a pan and add mustard seeds. When they pop, add diced onion, crushed ginger, garlic and green chilies.

Make a paste with chili, coriander and turmeric powder by adding a little water and add to the pan. Combine it well.

Add sliced mango pieces, salt and toss it for a minute.

Pour thin coconut milk to the pan and add prawns. Mix it well.

Cover it with a lid and let it cook on a medium flame for 6-7 minutes.

Remove the lid, add thick coconut milk and curry leaves and mix it well.

Let it stand on fire for 2 minutes and remove. Serve hot with rice!!!!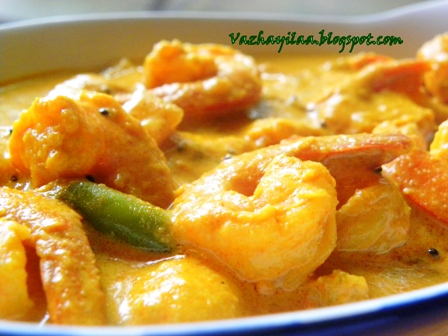 Guest posting today and sharing her delicious recipe is Sarah Naveen from "Vazhayila". Sarah has a beautiful blog filled with Indian recipes.
~Erica
I have many childhood memories associated with this particular dish. My grand mom used to make it every time I visited her during summer vacation. This is a very traditional and everyday dish from my native place called Kerala, located at the southern most tip of India. It is a place that is rich in the arts and is also rich in a variety of flavorful foods.
I guarantee that the aroma of this "Prawn and Mango" in creamy coconut milk is enough to get even the soundest of sleepers out of bed!!!