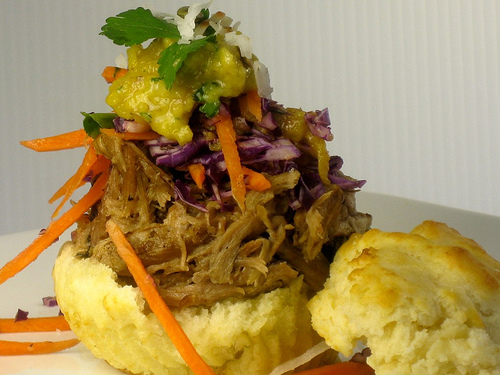 Pin
Guest posting today and sharing her delicious recipe is Joan Nova from "Foodalogue". Joan has a beautiful blog filled with fantastic recipes, travel stories and beautiful pictures.
It's raining. It's pouring. The old man is snoring. Do you remember that little jingle from your childhood? It was the inspiration for this dinner. It was raining. It was pouring. There was no old man snoring. Otherwise, I would have woken him up and sent him to the market!
Instead, I ferreted through the refrigerator, freezer, and pantry. I mixed. I matched. I re-purposed. And each step (noted below) brought me closer to the 'kitchen magic' that we foodies love so much.
* I pulled out the container of pulled pork from the carnitas my son made for our tortilla food challenge last week.
* My mind immediately went to a pulled pork sandwich and simultaneously to a fresh tasting salad to go with it.
* First came the idea of a red cabbage slaw (because that's what I had).
* Since I already was on a Latin path, I thought to make it tropical with toasted coconut and a citrus dressing.
* Then, I remembered I had squirreled away a couple pieces of plantain (maduros – the sweet ones) that were leftover from a prior meal.
* Aha, I had it!
I would make a tropical slaw dressed with a plantain vinaigrette. It would add crunch, freshness, acidity from the citrus and a little sweetness from the plaintain — in fact, it was a perfect complement to the savory pork. It truly was kitchen magic!
Tropical Slaw
Shredded red cabbage, shredded carrot, fresh cilantro, toasted coconut and toasted pumpkin seeds.
Plantain Salsa
Pulsed 3 small slices of baked plantain with juice of 2 limes, ½ large lemon and olive oil. It was more the consistency of a salsa than a vinaigrette so I mixed a little through the slaw and then topped it with a dollop.
The Moral of this Tale
NEVER throw leftovers away, especially if they're 3 measly pieces of plantain. This was unplanned but flavor-popping delicious…so much so, that the dishes are the table, the pans are in the sink, and I rushed off to the computer to tell you all about it.
I'm very happy it rained today.