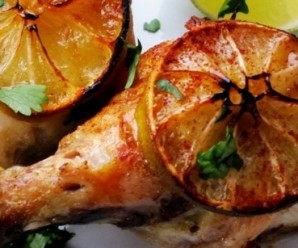 Roasted Chicken Legs with Lime
Ingredients
6

chicken drumsticks

skin on

2

tablespoon

olive oil

Juice of ½ lime

2

garlic cloves

minced

1

teaspoon

ground cumin

Salt and pepper

1 ½

limes

sliced

Fresh cilantro for garnish
Instructions
Marinate chicken: Mince and mash garlic to a paste with ½ teaspoon salt, then transfer to a large bowl. Stir in olive oil, lime juice and cumin. Toss chicken within marinade until coated. Cover, put in the fridge and marinate for at least 1 hour.

Position a rack in the center of the oven and heat at 425°F.

Place the chicken on a baking sheet and roast for about 15 minutes. Take the baking sheet out the oven and place the lime slices on top of the chicken evenly.

Continue roasting until the chicken is cooked through, about 40 minutes more and serve.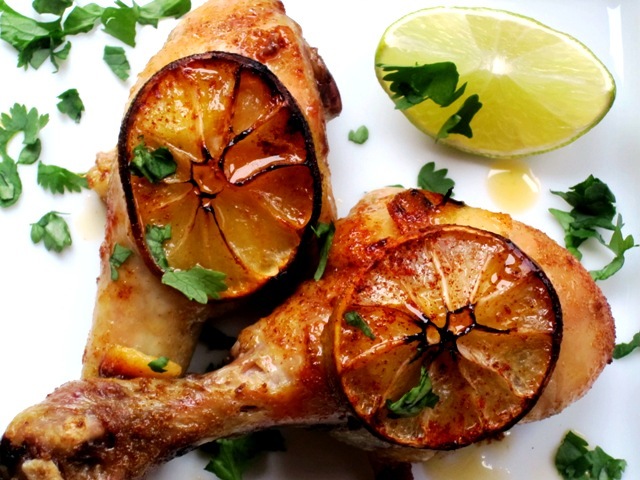 I had some extra chicken legs thawed in the refrigerator that I didn't use when I recently made my chicken soup for myself while I was sick. I still wasn't feeling well and I needed something simple and easy to make using the ingredients that I already had at home, as I still wasn't feeling up to going to the supermarket. So, I was thinking all night what I could make with them and the result were these chicken legs with lime.
They were delicious, packed with flavor and very easy to make and I only used a few ingredients. If you prefer, you can use chicken thighs instead. Enjoy!