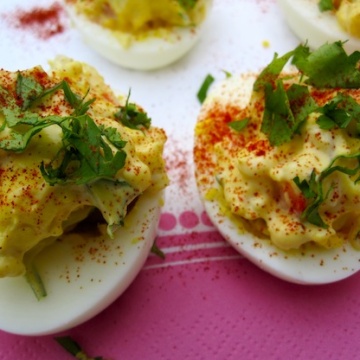 Shrimp Deviled Eggs
Ingredients
5

eggs

4

cooked shrimp

diced

1

tablespoon

finely chopped onion

½

teaspoon

lime juice

3

tablespoons

mayonnaise

½

teaspoon

mustard

¼

teaspoon

ground cumin

Salt and ground pepper

Paprika and cilantro for garnish
Instructions
Put the eggs in a saucepan and half fill with water. Set over medium heat. When the water bubbles gently, reduce the heat to low and cook for 15 minutes.

When the eggs are cool enough to handle, take them out of the water. Carefully peel off the eggshell.

Put the eggs on a cutting board. Using a sharp knife, cut each egg in half lengthwise. Use a soup spoon to scoop the yolks out of the eggs and into a bowl. Put the egg white halves on a serving platter and set aside.

Add the mayonnaise, onions, cumin, lime juice and mustard to the bowl with the yolks. Use the spoon to mash them all together into a paste. Add the shrimp and season with salt and pepper.

For each stuffed egg half, sprinkle on paprika and fresh cilantro. Serve immediately.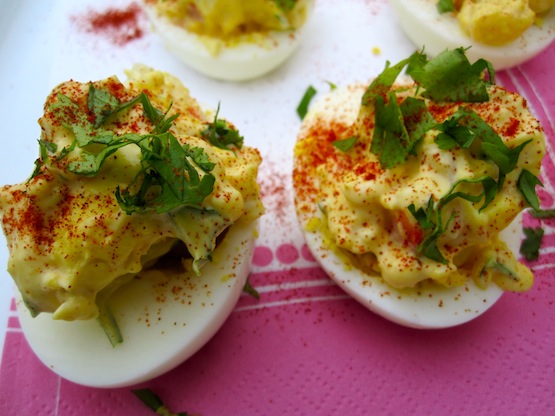 The first time I ate deviled eggs was about nine years ago, when I first came to the United States. I never heard of this delicious and simple appetizer while living in Colombia. For those who have never heard of Deviled Eggs, they are hard-boiled eggs, cut in half and filled with the hard-boiled egg's yolk, mixed with different ingredients.
They are simple and easy to make and a great picnic food. There are many variations of this egg dish. I made Shrimp Deveiled Eggs and they were fantastic, I could not stop eating them.
Buen provecho!