This is a great way to cook a quick and delicious appetizer for family or friends using shrimp. Enjoy this dish on a warm sunny day.
Ingredients
(Serves 4)
24 medium shrimp, peeled and deveined
Juice of 3 limes, divided
½ tablespoon ground cumin
1 tablespoon olive oil
2 small ripe avocados, peeled and cut into ½ inch cubes
Salt and Pepper
¼ cup sliced red onion
¼ cup chopped fresh cilantro
1 cup fresh pineapple, cut into ½ inch cubes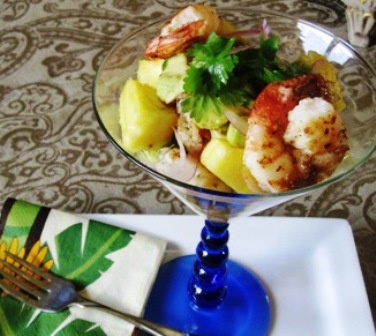 Instructions
1. To prepare the shrimp, Place the juice of 2 limes, salt, pepper and cumin powder in a zip lock bag, add the shrimp and marinade in the refrigerator for 15 minutes.
2. In a large skillet heat the oil over medium-high heat. Add the shrimp and cook until the shrimp are pink and cooked through, about 2 minutes each side.
3. Remove from the heat and let them cool. Reserve 8 shrimp for garnish and cut the rest into pieces at 3 pieces per shrimp.
4. In a large bowl mix the pineapple chunks, red onion, cilantro, shrimp, juice of 1 lime, salt and pepper. Mix all the ingredients well, add the avocado and fold into the mixture.
5. Serve in martini glasses and top with 2 whole shrimp each glass.
This was printed from MyColombianRecipes.com