Three Milks Cake with Dulce de Leche is a sweet, moist and delicious dessert. This cake would be perfect for any celebration.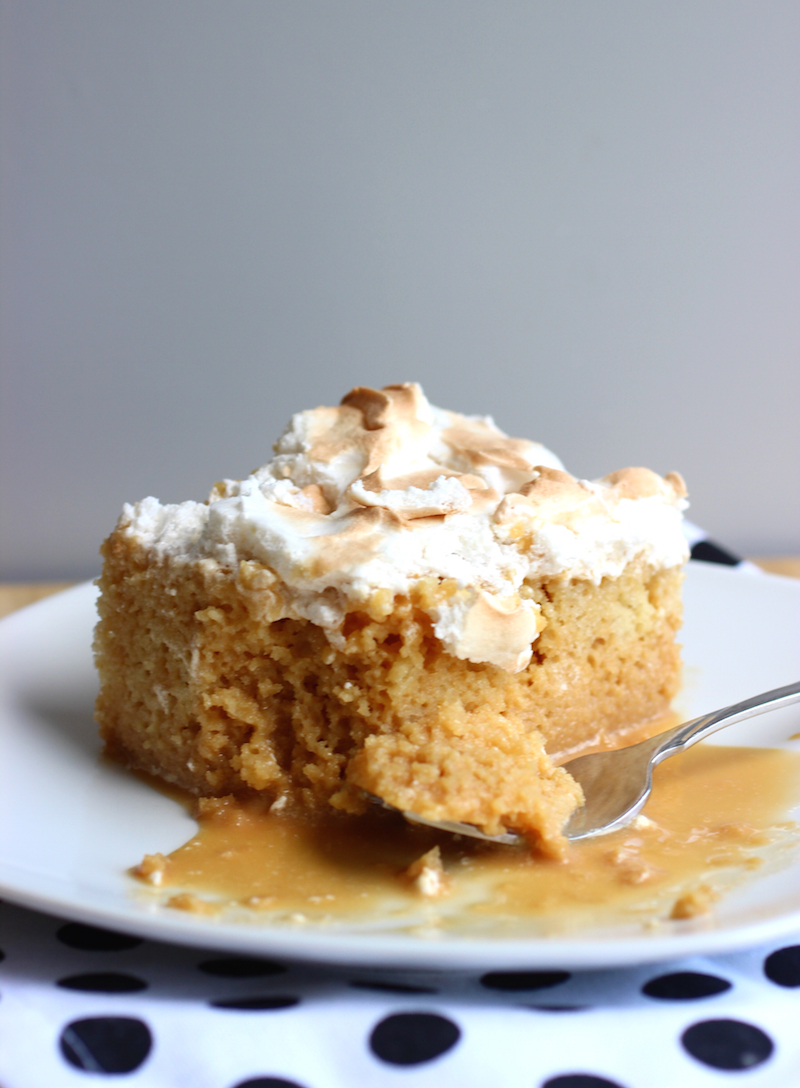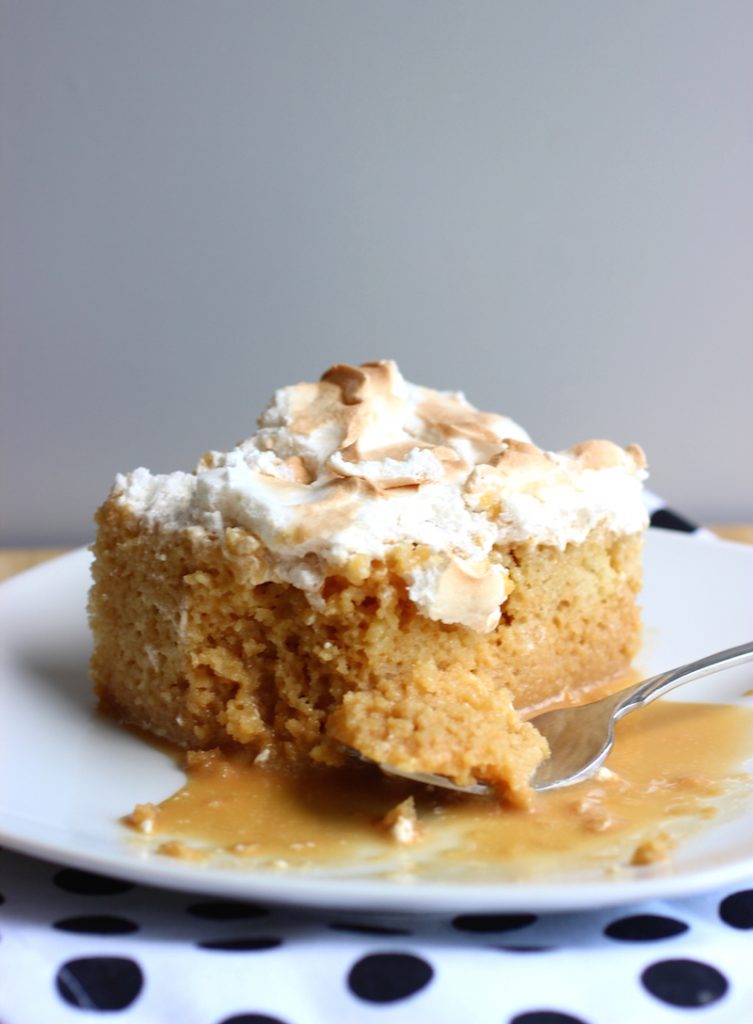 Tres leches literally translates to "three milks", which is exactly what is in the ingredients of a traditional Tres Leches Cake. It's a sponge cake soaked in a sweet milk mixture with the frosting of your choice. I like to use a meringue frosting for my Tres Leches Cake, but feel free to change the frosting if you prefer a different one.
Tres Leches Cake is a very popular dessert in Latin America and is very easy to make. I don't love sweets, and this cake is one of may favorite desserts. I have the traditional recipe along with a step by step video, a chocolate tres leches cake, tangerine tres leches cake, coffee tres leches cake and coconut tres leches cake. This time I made an Arequipe Tres Leches Cake and it was absolutely delicious!
I made a smaller version of this Tres Leches Cakes than my other versions, so feel free to double the recipe if you need a larger cake. If you're not familiar with Arequipe, also known as Dulce de Leche and Cajeta, it's a caramel sauce popular in Latin America. If you don't find it in the store, I have a recipe for a homemade Arequipe here, which is an easy to make version using sweet condensed milk.
I hope you enjoy this Tres Leches Cake de Arequipe (Three Milks Cake with Dulce de Leche) as much as we did! Buen provecho!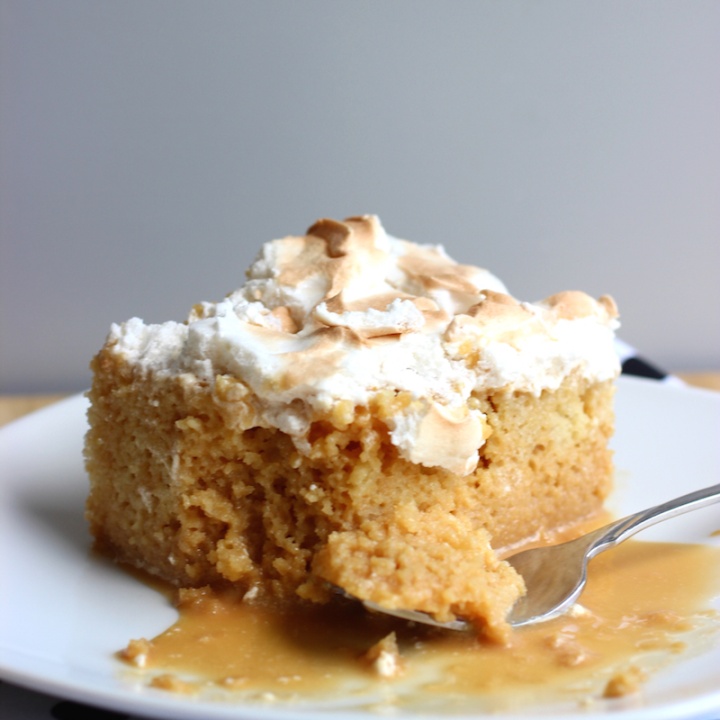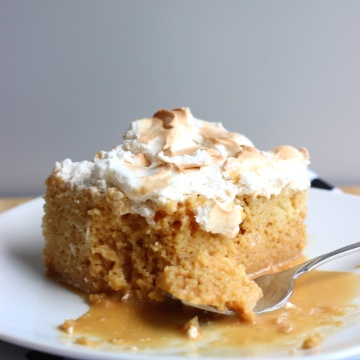 Tres Leches Cake de Arequipe (Three Milks Cake with Dulce de Leche)
Ingredients
Cake
1/1/4

cups

all purpose flour

1

teaspoons

baking powder

½

cup

whole milk

4

eggs

1

teaspoon

vanilla extract

3

tablespoons

butter

1

cups

sugar

¼

teaspoon

salt
Sauce
½

can sweetened condensed milk

¾

cup

evaporated milk

½

cup

heavy cream

½

cup

arequipe

dulce de leche

½

teaspoon

vanilla extract
Frosting
2

egg whites

½

teaspoon

cream of tartar

½

cup

sugar

¼

cup

water

½

teaspoon

vanilla extract
Instructions
Preheat the oven to 350° F

Grease and lightly flour a 9 x 9 baking dish.

To make the cake: In a bowl whisk together the flour, salt and baking powder.

In a small pot heat the milk and butter, remove from the heat and set aside.

In a large bowl beat the eggs with an electric mixer on high speed for 2 minutes. Add the sugar and continue mixing for 5 minutes. Reduce the speed to low. Add the flour mixture, butter mixture and vanilla extract and mix for 1 more minute.

Pour the batter into the baking dish and bake for 40 to 45 minutes or until a toothpick stuck in the middle comes out clean. Remove cake from the oven and with a fork make holes all over the top of the cake. Set aside to cool for 10 to 15 minutes.

When the cake is cooling, make the milk sauce, whisk together sweetened condensed milk, evaporated milk, heavy cream, dulce de leche and vanilla extract in a mixing bowl.

Pour the 3 milks sauce over the cake until it is all absorbed. Refrigerate for a least 3 hours or overnight before frosting.

For the frosting, in a small pot mix the water and sugar, over medium high heat, stirring constantly for 5 minutes. Set aside.

Beat the egg whites with cream of tartar until stiff peaks are formed. While beating the egg whites, add sugar syrup and continue beating for 5 more minutes. Add vanilla extract and beat 1 more minute. Spread the frosting over the cake and refrigerate until ready to serve.

Optional Browing: Turn on the broiler for your oven and place the top rack in the middle. Cover cake with meringue. Bake for 2 minutes or until the meringue is lightly browned. In this step you must be careful because the meringue can burn very quickly. To avoid accidents, I do it with the oven door open.
Nutrition
Calories:
430
kcal
Carbohydrates:
72
g
Protein:
11
g
Fat:
11
g
Saturated Fat:
6
g
Polyunsaturated Fat:
1
g
Monounsaturated Fat:
3
g
Trans Fat:
0.01
g
Cholesterol:
136
mg
Sodium:
285
mg
Potassium:
289
mg
Fiber:
1
g
Sugar:
56
g
Vitamin A:
622
IU
Vitamin C:
1
mg
Calcium:
200
mg
Iron:
2
mg