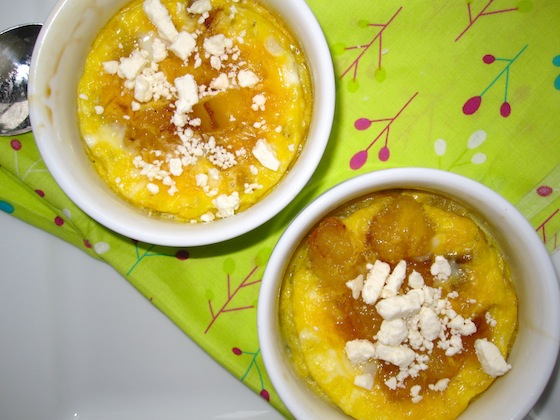 This Tortilla de Plátano Maduro from Caldas department of Colombia is easy to make and a perfect option for brunch with a steaming pot of coffee or hot chocolate.
Buen provecho!
Ingredients:
(4 – 6 servings)
3 very ripe plantains, peeled and diced
2 tablespoons vegetable oil
6 large eggs
1 tablespoon sugar
3 tablespoons honey
2 cups grated queso fresco or queso blanco, plus more for garnish
Directions:
1. Heat oven to 350 degrees F.
2. In a nonstick fry pan over medium heat, warm the oil. Add the ripe plantain and cook, stirring occasionally, about, 5 to 6 minutes. Transfer to a plate.
3. In a large bowl, whisk the eggs, sugar and queso together.Place the cooked plantains in a baking pan.
4. Pour the egg mixture in the plantains and place in the oven and bake until golden on top, about 10 to 12 minutes.
5. Drizzle with honey and sprinkle the remaining cheese on top. Serve warm.

Related Posts