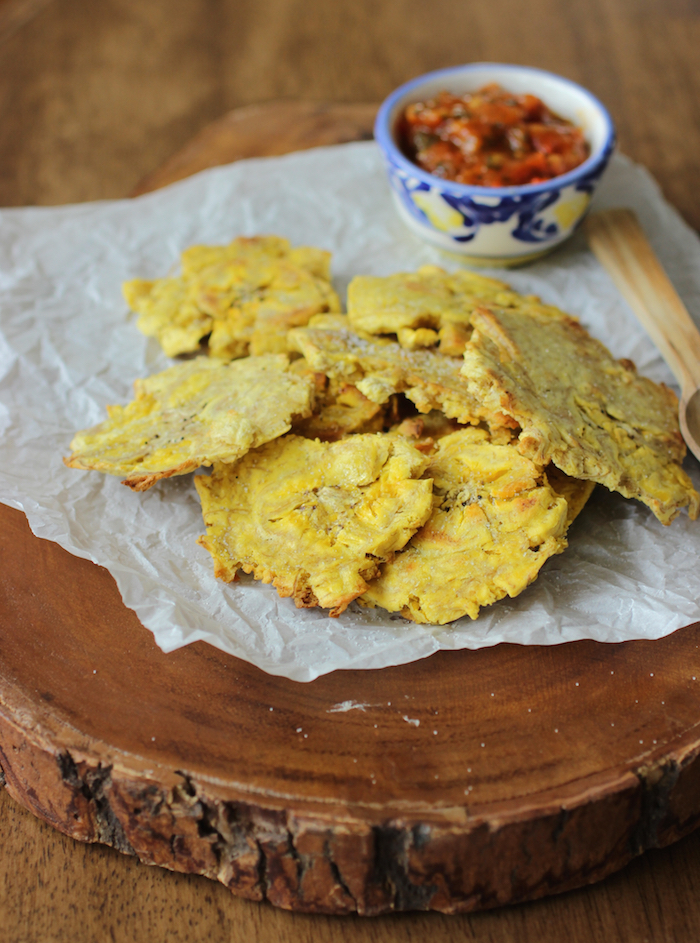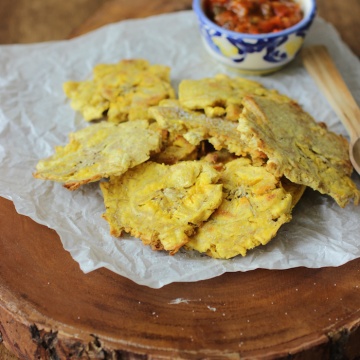 Baked Patacones o Tostones
Ingredients
4

green plantains with skin

Cooking spray

Salt
Instructions
Preheat the oven to 400°F.

Spray a baking sheet with cooking spray and set aside

Trim the end of each plantain and cut each plantain lengthwise on one side deep enough to cut through the skin but not the plantain.

Place the plantains in a pot with enough water to cover them and cook for about 30 to 40 minutes minutes or until they are soft.

Remove the pot from the heat and take one plantain at the time from the hot water (It's better to smash them when they are still warm). Peel the plantain and cut them into 4 thick slices while still hot.

Flat each slice as much as possible without braking the piece using a tostonera or the bottom of a glass. Place them on the baking sheet, add cooking spay on top of each piece and sprinkle with salt. Bake for about 7 to 9 minutes or until golden brown and crispy. Turn the patacones and bake on the other side for about 7 minutes. Season with more salt and serve with your favorite topping.
Patacones also known as Tostones are one of the most popular sides dishes in Colombia and Latin America. They are basically green plantains that have been fried, smashed, and then fried again in oil until crispy. In Colombia we serve them as a side dish or appetizer with different toppings and dipping sauces.
I love traditional patacones, but I get a lot of request from readers asking me about a lighter version. I tried different ways to make them without frying them in oil and finally have a recipe I like. I really enjoyed this bake version they are crispy and delicious.
If you are looking for healthier version of patacones this recipe is perfect for you, but if you want to fry them the traditional way click this link for my patacón recipe.
Buen provecho!