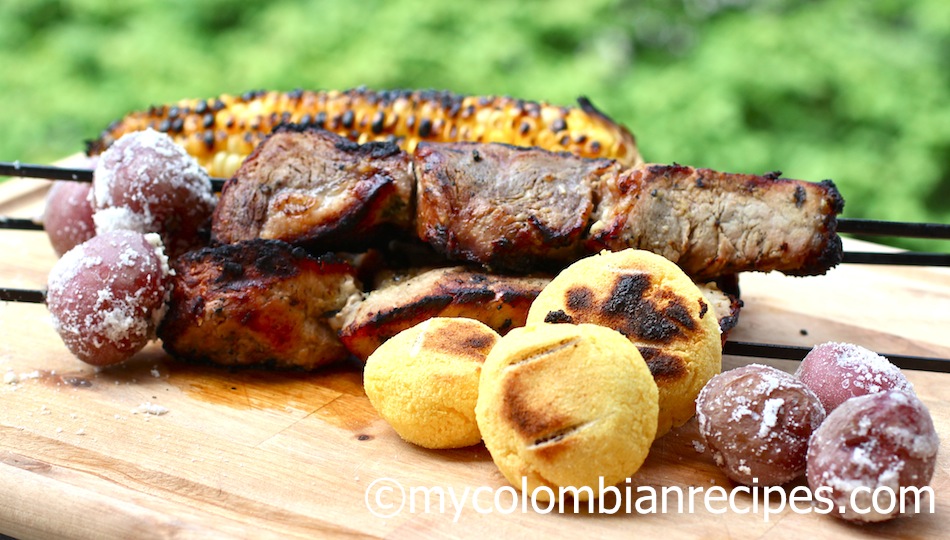 Colombian street food varies from region to region, offering a huge selection of delicious snacks, like grilled corn, hot dogs, empanadas, cheese arepas, and fresh fruit salads, to name a few. You will find street vendors in almost every neighborhood in Colombian cities and even in some small towns.
The food is prepared right there in front of you, tempting you with wonderful aromas, each vendor with his or her own style. In fact, some of these cooks gain such a good reputation for their food that people will travel long distances just to eat the food from that specific vendor (vendedor ambulante).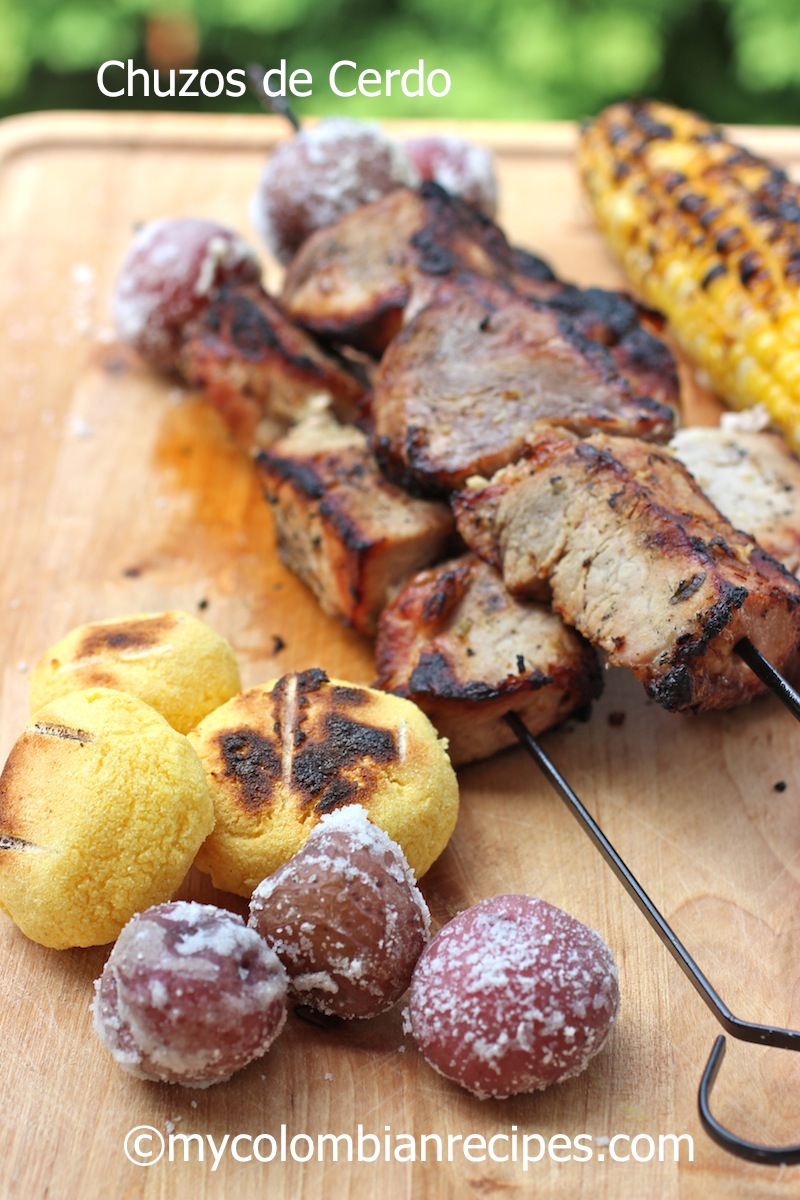 Chuzos o Pinchos (skewers) are a popular Colombian street food, but you also find them in fancy Traditional Colombian restaurants around the country. They are made with chicken, beef, fish or pork. What makes this Chuzos o Pinchos de Cerdo recipe special is the sauce, used as both the marinade and the basting sauce. It is a very flavorful sauce and makes the grilled pork taste absolutely amazing.
Chuzos o Pinchos are usually served with papa salada (salted potato) and arepa. Eating these Colombian-Style Grilled Pork Skewers last week brought me back to the streets of Medellín. I hope you enjoy this recipe as much as I did!
Buen provecho!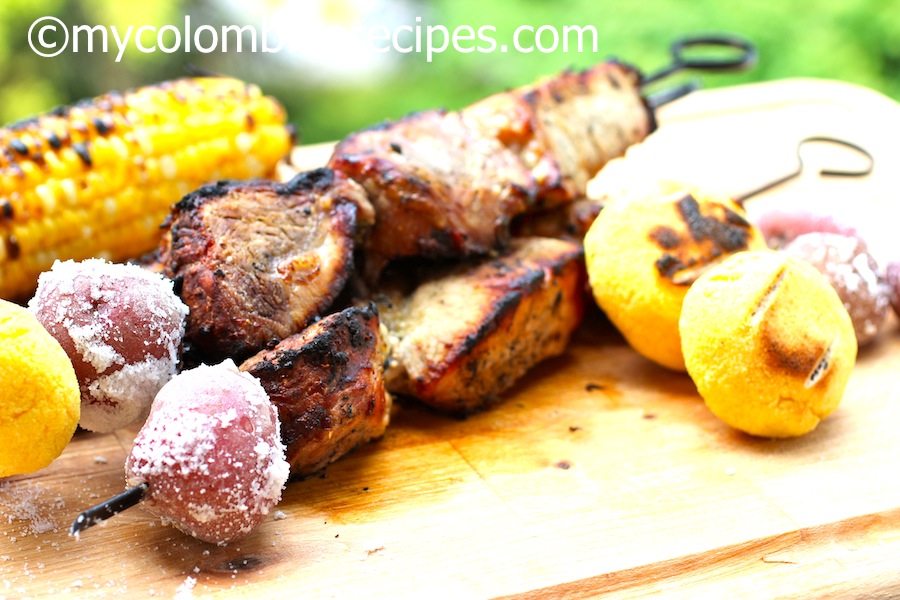 Ingredients
(6 chuzos)
2 pounds pork meat, cut into pieces
1 large onion, chopped
6 garlic cloves, minced
4 chopped scallions
1 teaspoon ground cumin
1 cup of beer
1/4 cup of water
Salt and black pepper
Vegetable oil for brushing the skewers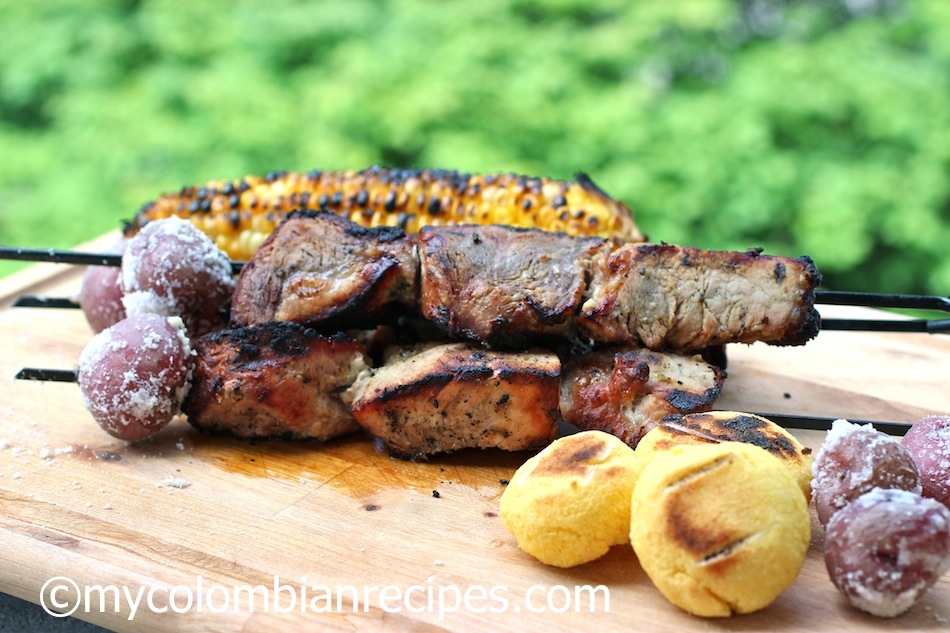 Directions
Place the onion, garlic, scallion, ground cumin, beer, water, salt and pepper in the food processor. Place half of the marinade in a large zip lock plastic bag.
Add the pork pieces and let it marinate for 24 hours or for at least overnight in the refrigerator. Store the remaining marinade in a container in the fridge.
Preheat the grill to high. Thread the pork onto skewers and brush with vegetable oil. Brush the pork often with the remaining marinade while it's on the grill.
rill until browned on all sides, 5 to 7 minutes total. Serve the skewers with a papa salada and small arepa.
This was printed from MyColombianRecipes.com