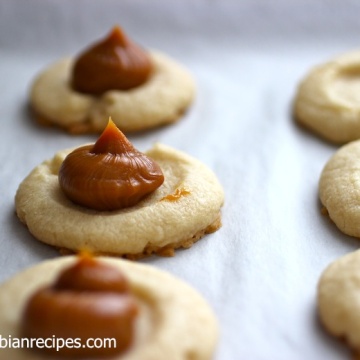 Dulce de Leche Thumbprint Cookies
Ingredients
½

cup

of butter or 1 stick

at room temperature

¼

cup

of sugar

1

large eggs

at room temperature

¼

teaspoon

of vanilla extract

Pinch

of salt

1

cup

of all purpose flour

½

cup

of homemade or store bought dulce de leche or arequipe
Instructions
Preheat oven to 350 degrees F. Line a large cookie sheet with parchment paper.

Using an electric mixer, beat together butter and sugar on medium speed until light and fluffy, about 4 to 5 minutes.

Add the egg, vanilla extract and salt until combined. Lower the speed of the mixer to low and add all-purpose flour in two additions.

Form the dough into 12 balls. Place the balls of dough on prepared baking sheet, about 1 inch apart. Using the round part of a ¼-teaspoon measure, make a deep indentation in each ball.

Bake the cookies until firm to the touch and golden on the bottom, about 10 minutes.

Allow the cookies to cool on the baking sheets for 5 minutes, then transfer and cool on wire cooling rack.

When ready to serve, fill the indentations with dulce de leche or arequipe.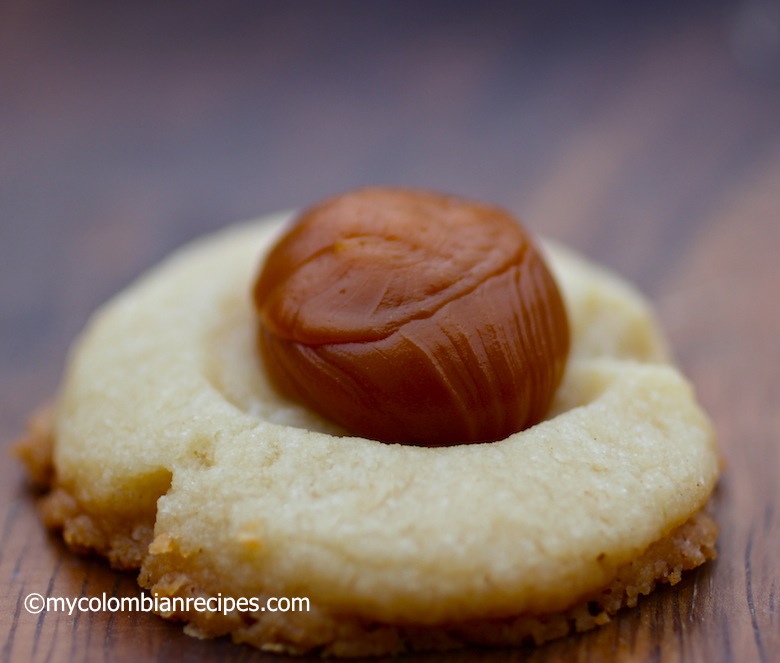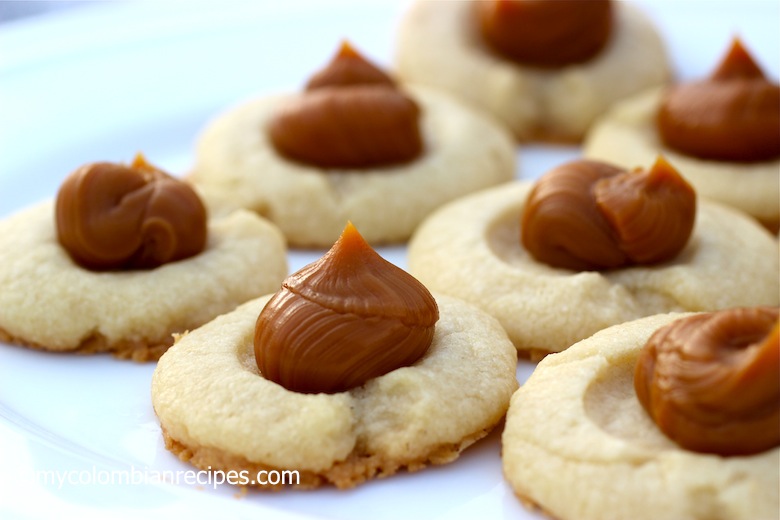 "Arequipe"… I can't think of a word that makes me happier!
I always have one open jar of Dulce de Leche, or Arequipe, sitting in my refrigerator and a couple spares in my pantry!
I was thinking of what to make with them recently and I didn't want to make Alfajores, milkshakes, crepes, cocadas or cakes again, and I wanted to do more than just eat it straight out of the jar, like I always do. I wanted to make something different and that my family would enjoy, so I decided to make Dulce de Leche Thumbprint Cookies.
These cookies are buttery, sweet and absolutely delicious! I think these cookies are definitely my new favorite way to enjoy Arequipe!
Buen provecho!