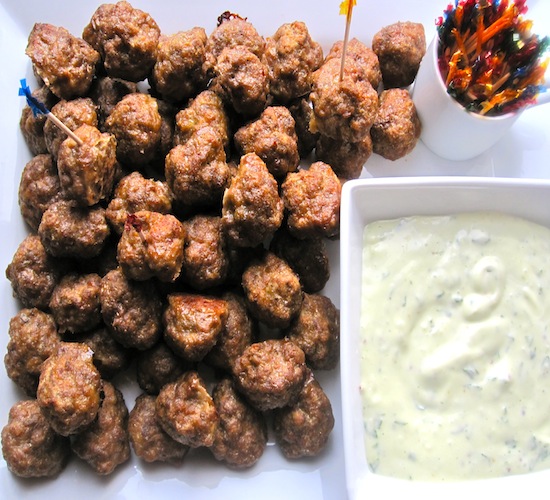 I love making mini versions of big things. For example, rather than making a big pasta casserole, I usually prefer to make individual dishes. They are really cute. Don't you think?
These Mini Meat Balls are perfect for a cocktail or tapas party . You can make them ahead and bake them when your guests arrive. Easy,simple and delicious!
Buen provecho!
Ingredients
(Makes about 65 mini meatballs)
Meatballs

1 pound ground pork
1 pound ground beef
1 cup bread crumbs
1/2 cup milk
2 beaten eggs
Salt and pepper
1 teaspoon paprika
1 teaspoon ground cumin
1 teaspoon garlic powder
1 teaspoon onion powder
1/2 teaspoon ground oregano

Garlic-Basil Sauce

1 cup mayonnaise
1/2 cup sour cream
1/2 cup basil
2 garlic cloves
Juice of 1/2 lemon
Salt and pepper
Directions
To make the meatballs:
In a large bowl, combine all the meatball ingredients . Knead with your hands until well mixed.
Shape the mixture into mini meatballs, set them on a baking sheet. Refrigerate until ready to bake.
Preheat the oven to 400F. Place the meatballs in the oven and bake, turning once with tongs until brown and crispy on both sides, about 15 minutes total. Remove the baking sheet from the broiler and transfer the meatballs to a platter.
To make the sauce:
Place all the sauce ingredients in the food processor and process until smooth.
Serve the meatballs with the sauce on the side.
This was printed from MyColombianRecipes.com