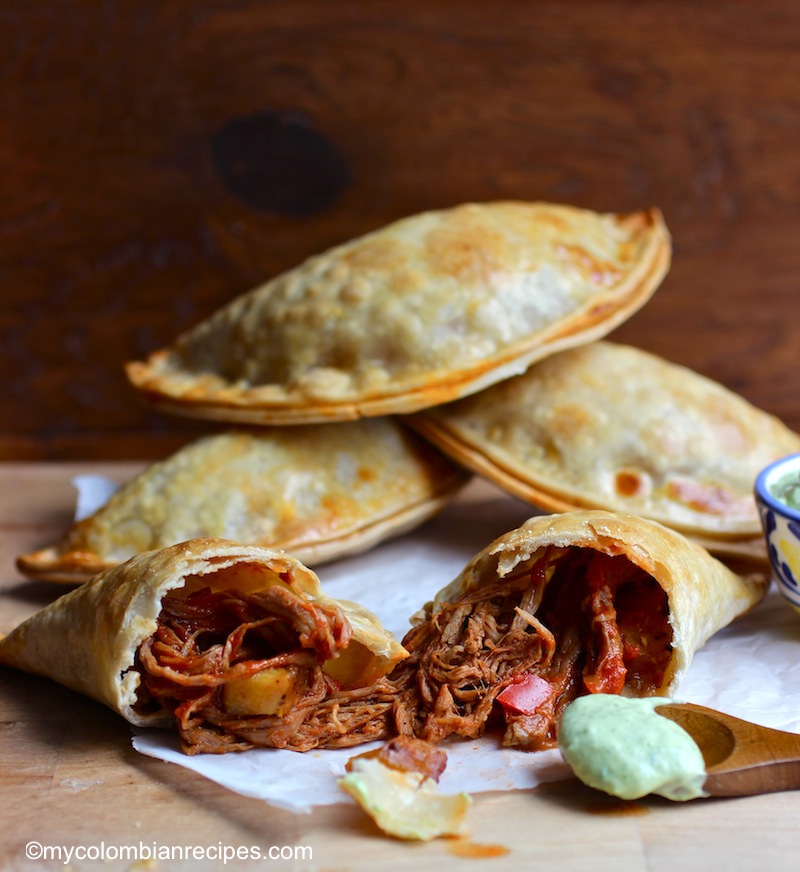 Carne Desmechada also known as Ropa Vieja is a flavorful shredded beef dish usually served with rice, plantains and beans, while there are many variations of this traditional dish. Some recipes have been passed down through generations, while we all think our grandmother's recipe is best! Ropa vieja makes fabulous sandwiches piled high on toasty rolls and is wonderful over arepas, rice or tostadas. Plus, the leftovers are fabulous for days and it freezes well and reheats without much damage to the flavor or consistency.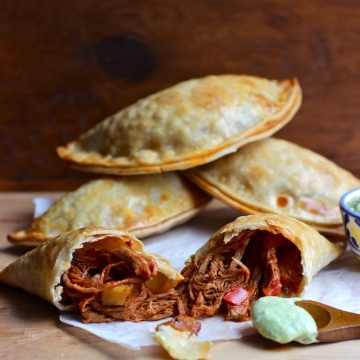 Ropa Vieja and Ripe Plantain Empanadas with Avocado Sauce
Ingredients
12

large empanadas or 24 small discs

see recipe here

1

beaten egg

1

ripe plantain

peeled, diced and fried

For the ropa vieja

2

pounds

of flank steak

8

cups

water

Salt and pepper

1

tablespoon

olive oil

1

large onion

finely chopped

1

red bell pepper

finely chopped

4

garlic cloves

crushed

1

cup

chopped tomatoes

1

teaspoon

ground cumin

1

teaspoon

tomato paste

Avocado Sauce

2

avocados

halved, seeded and peeled

2

tablespoons

mayonnaise

¼

cup

heavy cream

2

limes

juiced

Salt and pepper

½

teaspoon

ground cumin

½

medium red onion

diced

¼

cup

fresh chopped cilantro

2

garlic cloves
Instructions
In a pot, place the flank steak, water, salt and pepper. Cook over medium heat for about 1 hour and 15 minutes or until the meat is cooked.

Measure 1 cup of the liquid used to cook the meat and set aside.

Remove the beef from the pot, let it cool and shred with a fork or your hands.

In a saucepan, place the olive oil, onions, bell pepper, tomato and garlic. Cook for about 5 minutes. Add the tomato paste, cumin, shredded beef and the 1 cup of beef liquid. Cook for 6 to 8 minutes, stirring occasionally.

To assemble the empanadas: Place a spoonful of the ropa vieja and diced plantains on the center of the empanada discs.

Brush the edges of the empanada discs with the beaten egg. This will help them seal better and keep the filling from leaking while baking.

Fold the empanada discs and seal the edges. Use a fork to help seal the empanadas, or use your fingers to twist the edges. Lightly brush the top of the empanadas with the egg, which will give them a golden color when they bake.

Chill the empanadas for at least 30 minutes. Preheat the oven to 400 F and bake for 15-20 minutes or until golden.

To make the avocado sauce: Place all the ingredients in a food processor and process until smooth.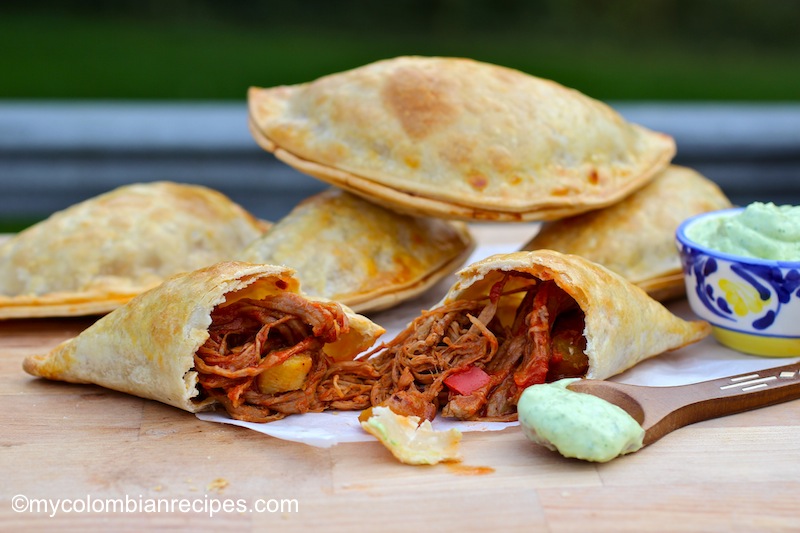 I recently made carne desmechada and served it over steaming white rice with ripe plantains (tajadas) on the side. I froze the leftover ropa vieja, which was a life-saver a few days later when I was craving empanadas but too tired to make a filling. So the idea to make Ropa Vieja Empanadas was born. Imagine all that beef goodness stuffed inside a crispy dough!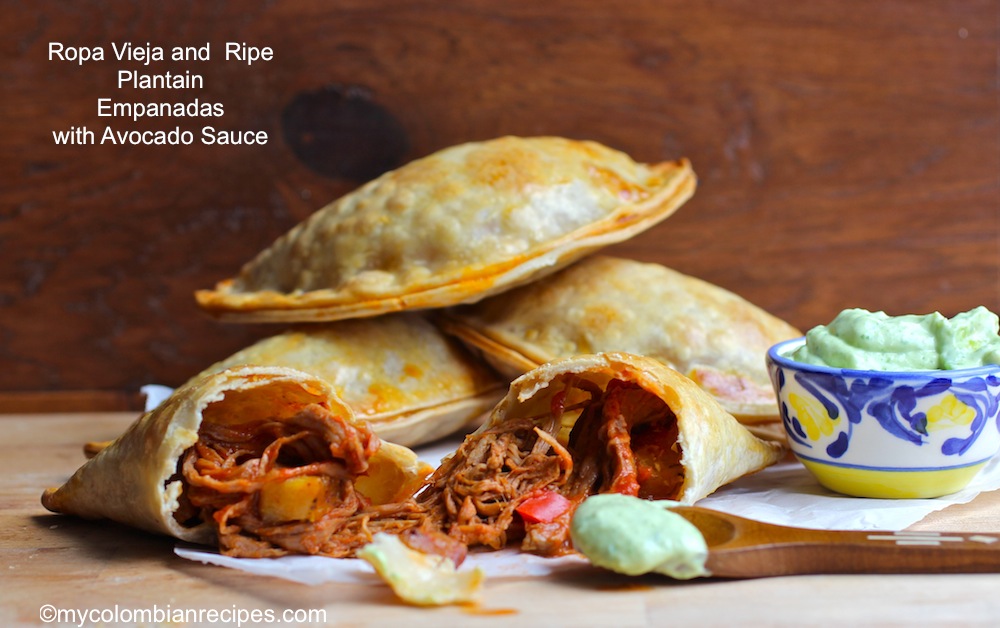 So today I'm combining two of my favorite Latin dishes, empanadas and ropa vieja. If I could eat these Ropa Vieja and Ripe Plantain Empanadas every day, I'd be a happy girl. Sometimes I have what I think is a great idea for a recipe and it turns out horrible and I wonder what I was thinking. Other times the recipes turn out as expected, while still there are other times when the dishes turn out even better than I could have imagined, and that is exactly what happened with these empanadas!
While this is not really a weeknight recipe, you can certainly make a batch, bake a couple, and then freeze the rest for easy appetizers later. Buen provecho!