These palitos or deditos de queso or cheese sicks are a popular Colombian snack. They are perfect for everything from parties to after school snacking.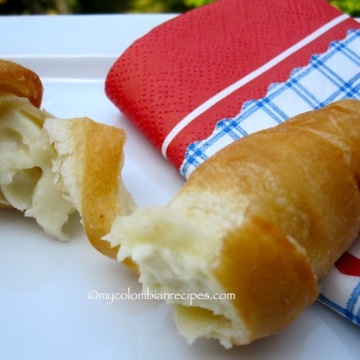 Palitos o Deditos de Queso (Cheese Sticks)
Ingredients
Oil for frying

2

about 8-ounce blocks of queso blanco for frying white cheese cut into 4 by ½-inch sticks

2

cups

all purpose flour

1

teaspoon

of salt

4

teaspoons

of sugar

1

teaspoon

of baking powder

5

tablespoons

of butter

6

tablespoons

of sparkling water or ice water
Instructions
To make the dough: Place the flour, sugar and salt in a food processor. Add the butter and water until a dough forms.

Form a ball, cover with plastic wrap and place in the refrigerator for about 40 minutes.

On a lightly floured surface, roll out the dough into a thin rectangle.

With a pizza cutter or sharp knife, cut dough into strips about three times the size of the cheese sticks.

Wrap the cheese stick using one strip of dough overlapping the dough. Fold and seal the edges.

Repeat this process with the remaining cheese and dough. Cover and freeze until frozen, about 2 hours and up to 2 days.

Heat the oil in a large frying pan over medium heat. Working in batches, fry the cheese sticks until golden brown, about 1 minute per side. Transfer the palitos de queso to a plate lined with paper towel and eat immediately.
Nutrition
Calories:
247
kcal
Carbohydrates:
35
g
Protein:
4
g
Fat:
10
g
Saturated Fat:
2
g
Polyunsaturated Fat:
3
g
Monounsaturated Fat:
5
g
Trans Fat:
0.003
g
Cholesterol:
0.2
mg
Sodium:
572
mg
Potassium:
50
mg
Fiber:
1
g
Sugar:
3
g
Vitamin A:
420
IU
Vitamin C:
0.02
mg
Calcium:
51
mg
Iron:
2
mg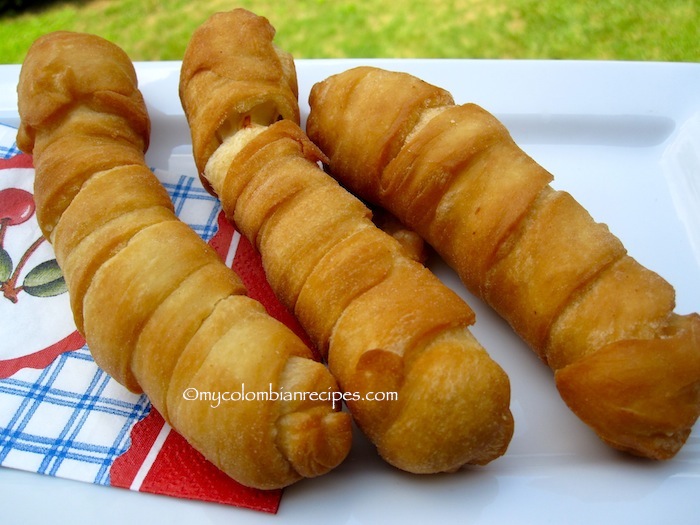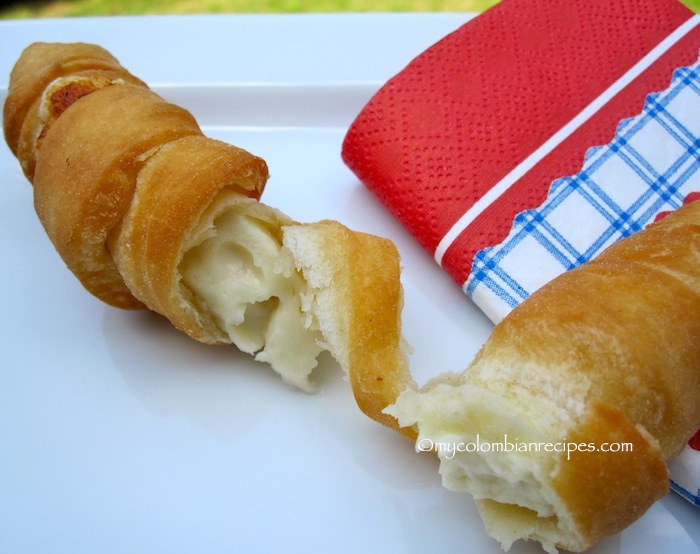 Palitos de Queso are sticks of white cheese (queso blanco), wrapped with dough and fried until golden. A family party in Colombia was not a party without Palitos or Deditos de Queso. We hardly ever made them from scratch, mainly because it was easier to go to the market and buy them already assembled, then we just needed to bring them home and fry them for breakfast, snacks or store them in the freezer for party appetizers.
These Palitos de Queso are also served all over Colombia at coffee shops and school cafeterias. I have many wonderful memories associated with these delicious cheese sticks.
Buen provecho!