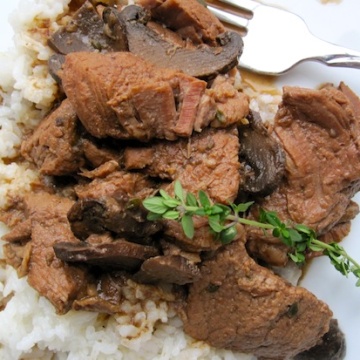 Slow Cooker Beef Stew with Mushrooms
Ingredients
2

pounds

lean stewing beef

such as chuck or round, cut

into chunks

2

tablespoons

olive oil

3

cups

of beef stock

3

garlic cloves

½

cup

onion

finely chopped

½

teaspoon

fresh thyme

¼

teaspoon

ground cumin

Salt and pepper

1

pound

portobello mushrooms

sliced

1

oz.

dried porcini mushrooms

¼

cup

red wine

optional
Instructions
Place the beef in a bowl. Sprinkle with the salt and pepper and toss to coat evenly. In a large fry pan over medium-high heat, warm the olive oil. Working in batches if necessary, sautué the beef until browned on all sides, about 5 minutes. Transfer to a bowl and set aside.

Add the onion and garlic to the pan and sautué over medium-high heat for 1 minute. Add ½ cup of beef stock and wine, if using, and deglaze the pan, stirring and scraping up the browned bits from the pan bottom with a wooden spoon.

ransfer the beef to a slow cooker and add the onion mixture and the rest of the ingredients. Cover and cook according to the manufactureru2019s instructions until the beef is very tender and the sauce is thick but still fluid, about 3 hours on high or 6 hours on low.

Spoon the stew onto individual plates with white rice or into a large serving bowl. Garnish with the thyme and serve immediately.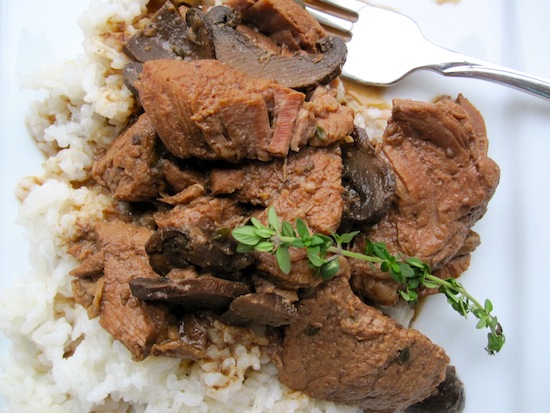 I loved making this dish. The aroma of slow cooked meat with mushrooms and herbs throughout the house was deeply comforting and satisfying.
There really is something to slow-cooking meat on a cold, snowy day like the ones we are having so often here in the Northeast this crazy winter.
This is a simple, rich and tasty dish that is as good reheated as it is the first day.
Buen provecho!