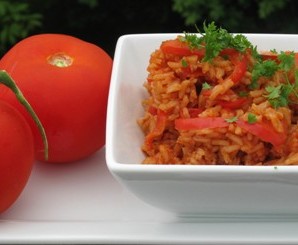 Tomato and Red Pepper Rice (Arroz con Tomate y Pimentón)
Ingredients
2

tablespoons

olive oil

2

tablespoons

chopped white onion

1

garlic clove

finely chopped

1

cup

red bell pepper

sliced

2

cups

long-grain rice

1

vegetable bouillon tablet

1

cup

tomato purée

4

cups

water

Salt
Instructions
Heat the olive oil in a pot. Add the onions, garlic and red bell pepper and cook until onions are translucent, stirring occasionally, about 5 to 7 minutes.

Add the rice, stir with a wooden spoon to coat well, and cook for 1 minute.

Add the water, vegetable bouillon, tomato puree and salt. Bring to a boil, stir and decrease the heat to low.

Cover and cook for about 20 minutes or until the water is absorbed and the rice is tender.

Remove from the heat and let rest for 5 minutes.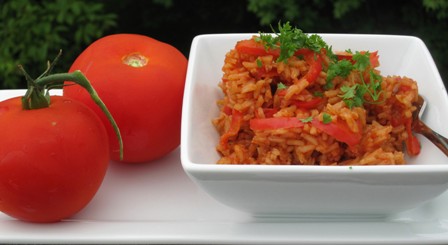 Plain white rice is eaten by most people in Colombia every day, but for entertaining, a more interesting rice dish is often served, such as this one.
This Red pepper and Tomato Rice dish is the perfect accompaniment to your favorite grilled meat or poultry. Enjoy it!