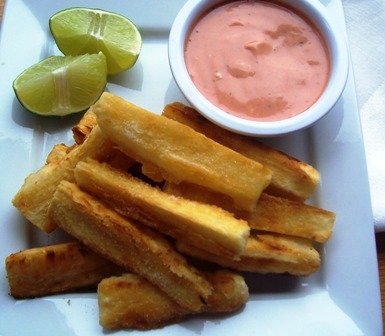 Yuca frita is very popular in Colombia and is served by just about every typical Colombian Restaurant in the world. Serve with salsa rosada or your favorite dipping sauce.
INGREDIENTS
(SERVES 6-8)
2 Lb fresh or frozen yuca (cassava)
Vegetable oil
½ tablespoon salt
DIRECTIONS
1. In a large pot cover the yuca with water, add salt and bring to a boil, reduce the heat to medium low and cook about 15 to 20 minutes or until is tender.
2. Remove the yuca from the water and pat dry with paper towels. Cut the cooked yuca into ½ – inch strips.
3. Fill a large frying pan with enough vegetable oil to 350° F. When the oil is hot, place the yuca into the heated oil carefully. Fry them until golden brown on both sides about 6 to 8 minutes.
4. Remove the yuca pieces from the oil using a slotted spoon and drain on paper towels. Sprinkle with salt and serve.

If you liked this post, you can say thanks by sharing it:
Related Posts