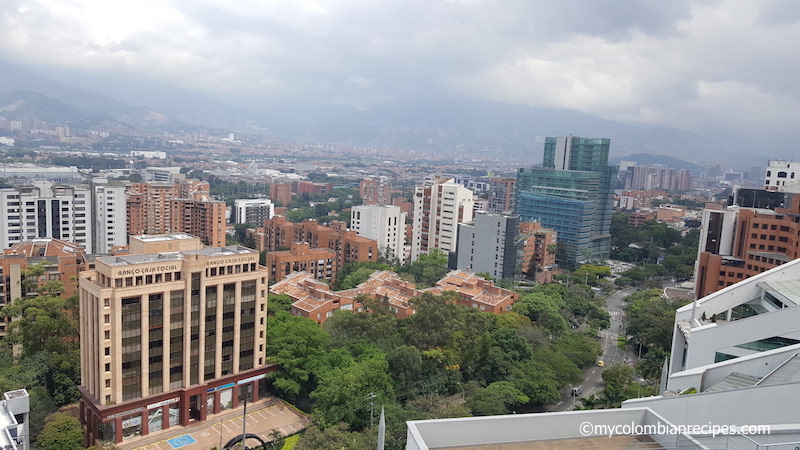 During my family's trip to Colombia last month, we stayed at the Hotel San Fernando Plaza in Medellín. Let me be perfectly clear, this post was NOT sponsored by the Hotel San Fernando Plaza! I just wanted to share my personal experience with this Medellín hotel. As a Medellín native and with a background in hotel administration, I found staying at a hotel in my home city as a tourist, very interesting…
Location
The Hotel San Fernando Plaza is located in the Poblado section of Medellín, one of the best locations in the city. Only forty-five minutes from Jose María Cordoba International Airport and located on the Milla de Oro, or the Golden Mile, the San Fernando could not be more centrally located to suit my needs. The area is one of the Poblado's most iconic locations, and is famous for its hotels, financial and medical buildings, malls, casinos, restaurants and cafes. I love the overall location of this hotel.
Guest Services and Amenities
The service at the Hotel San Fernando Plaza, in contrast, had its ups and downs. Checking-in was quick, but we had to wait in line for quite a while during the check-out process. They seemingly didn't have enough staff at the reception desk, which based on other online reviews, is not uncommon. We did however receive a wonderful welcome from the bell-boy Jimmy, who reviewed the hotel's amenities, services, and facilities perfectly, while escorting us, along with our luggage, to our room.
Jimmy's amazing service throughout our stay continued. While my husband and I were addressing one of the issues we had with the hotel, we left the kids in the lounge area, just behind us. When we returned, the kids were enjoying ice cream, thoughtfully supplied by Jimmy in our absence. My husband said 'he made the stay'!
If you don't speak Spanish, you may struggle to communicate at the San Fernando. This wasn't necessarily surprising, as the hotel's website does not have an English language version, at least they don't at the time of writing this review. Most of the staff with whom we dealt, did not speak English. The day we arrived they didn't have anybody at reception who spoke English. Most of the servers in the hotel's only restaurant did not speak English, nor did any of the housekeeping and room service staff with whom we interacted. Being that the hotel's website is only in Spanish, they may not wish to cater to English-only speaking guests. I can't say with certainty either way, I just thought it important to share our experience around this issue. My husband and children do not speak Spanish, so they obviously struggled to communicate with much of the hotel's staff. Of course Jimmy spoke English very well 🙂 as did others, but most who spoke English primarily held management positions, in our experience.
Let's talk about common comforts to which we are accustomed here in the United States. Unless you understand Spanish, don't expect much in the way of TV programming choices, as there were very few English-speaking channels available. Some channels would intermittently air English-speaking shows, but they were mostly old re-runs that were of no interest to us.
Also, and very importantly, the Wi-Fi was HORRIBLE, an issue to which more than a couple of hotel managers admitted. This caused inconveniences on many fronts for us, as we often could not access the internet from any of our devices. Our cell phone company's international data package was virtually useless, so we needed to purchase a SIM card from a local wireless company, which cost us about $170 for only 6GB of data, which equaled only about 3 hours of Netflix streaming. So, the kid's and my husband couldn't watch cable TV in English, they couldn't stream Netflix over the hotel's Wi-Fi, and only had a few hours worth of data to stream with the local wireless plan, which translates to no peace for Mama during the early morning and late evening, when the boys need their TV/Netflix downtime.
More important than not being able to watch TV, was the struggle to get an Uber. Think about it… no Wi-Fi, no wireless data, no Uber! There were many times when we were able to contact Uber to schedule a ride only to lose Wi-Fi during the middle of a booking which created additional inconveniences, such as not being able to communicate with the driver and being unsure if an order was even placed.
The way in which I normally communicate with my family in Colombia is through What'sApp, which of course requires an internet connection. So, the lack of connectivity made such communications difficult, while live-blogging was not worth the annoyances. We might have been okay with the terrible Wi-Fi if we expected it, but the hotel's website advertises 'Free Wi-Fi', which we assumed actually worked, at least most of the time!
The hotel also has a spa, a beautiful swimming pool, a small bar and a gym. We made use of them all…except the gym 😉